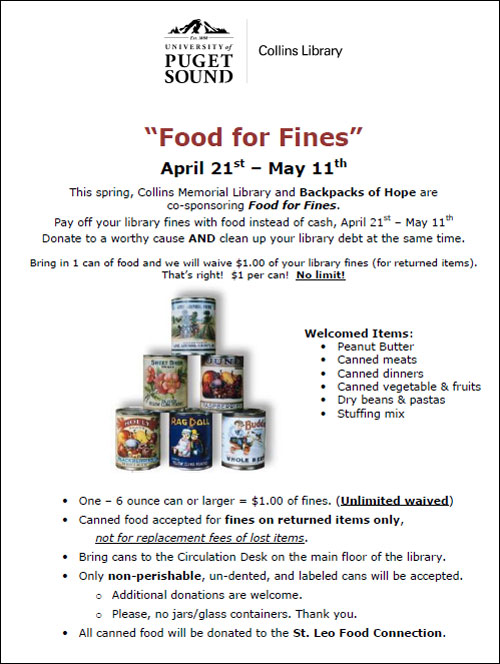 This spring, Collins Memorial Library and Backpacks of Hope are co-sponsoring Food for Fines. Pay off your library fines with food instead of cash, April 21st – May 11th. Donate to a worthy cause AND clean up your library debt at the same time. Bring in 1 can of food and we will waive $1.00 of your library fines (for returned items). That's right! $1 per can! No limit!
Welcomed Items:  Peanut Butter, Canned meats, Canned dinners, Canned vegetable & fruits, Dry beans & pastas, Stuffing mix
One – 6 ounce can or larger = $1.00 of fines. (Unlimited waived)
Canned food accepted for fines on returned items only, not for replacement fees of lost items.
Bring cans to the Circulation Desk on the main floor of the library.
Only non-perishable, un-dented, and labeled cans will be accepted. (Additional donations are welcome. Please, no jars/glass containers. Thank you.)
All canned food will be donated to the St. Leo Food Connection.