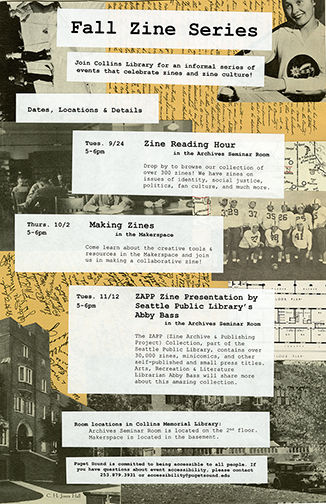 Tues. 9/24:  Zine Reading Hour, 5:00-6:00pm, Archives Seminar Room
Drop by to browse our collection of over 300 zines! We have zines on issues of identity, social justice, politics, fan culture, and much more.
Thurs. 10/2:  Making Zines, 5:00-6:00pm, Makerspace
Come learn about the creative tools & resources in the Makerspace and join us in making a collaborative zine!
Tues. 11/12:  ZAPP Zine Presentation by Seattle Public Library's Abby Bass, 5:00-6:00pm, Archives Seminar Room
The ZAPP (Zine Archive & Publishing Project) Collection, part of the Seattle Public Library, contains over 30,000 zines, rninicornics, and other self-published and small press titles. Arts, Recreation & Literature Librarian Abby Bass will share more about this amazing collection.
Room locations in Collins Memorial Library:
Archives Seminar Room is located on the 2nd floor. Makerspace is located in the basement.
Puget Sound is committed to being accessible to all people. If you have questions about event accessibility, please contact 253.879.3931 or accessibility@pugetsound.edu