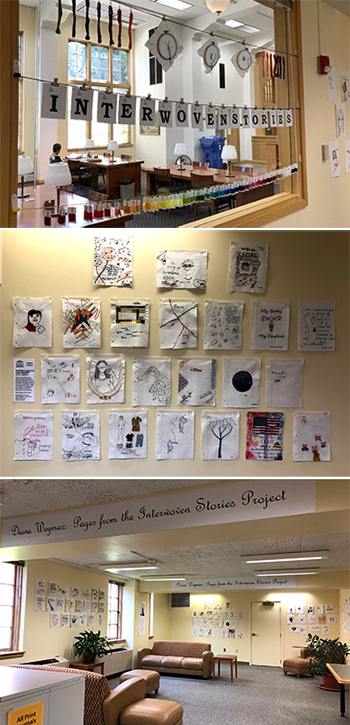 We are pleased to exhibit a selection of pages from artist Diana Weymar's Interwoven Stories project.  Interwoven Stories is a community stitching project that was started by Weymar, a Canadian artist,  supported by the Princeton Arts Council in New Jersey.  The project has expanded to include stitched pages from a number of organizations in this country and abroad.  The University of Puget Sound contributed a chapter to Interwoven Stories as a result of a residency Weymar had on our campus several years ago.  Titled, Refashioning Identity, the Puget Sound pages explore gendered assumptions governing needlework in the past and images that might express and transform our perceptions.  The images also address the way in which we "refashion" our identities to better reflect the diversity of our experiences in the community.  Other chapters on display include pages from the Peddie School, Hightstown, New Jersey.  These pages were done by art students who explored the cultural context of images shared on social media by stitching images that they commonly share within their community.  Pages from the Trans Tipping Point project in Victoria, BC., focus on messages to elevate the voices of trans youth. The pages from the Build Peace from Zurich, Switzerland and Bogota, Columbia bring together practitioners, activists, artists and technologists from around the world to share experience and ideas on using technology, arts and other innovations for peacebuilding and conflict transformation.
Also highlighted in the exhibition is information about Weymar's latest project:  Tiny Pricks.  Tiny Pricks has received international attention and was recently highlighted in The New Yorker Magazine:  https://www.newyorker.com/magazine/2019/07/22/stitch-n-bitch-for-the-trump-era.  This politically charged stitching effort invites members of the public to contribute stitched quotes of the President on antique or old fabric.  As Weymar states in the New Yorker, " "This makes me so happy, I can't tell you," she said. "I woke up this morning, and I thought, How early can I come in? People are just at home, frustrated. They can't talk about politics anymore. This project is like a treasure hunt. You find the quote that really resonates for you. Like, where were you the moment you heard him say this, and you thought, Oh, no, no, no, no. That's not possible. That he's our President. That he's our President. In that sense, I think of it as a memorial, too—like when you see the Vietnam Memorial, the multitudes is what hits you."
Details about how to contribute are available in the exhibition space and online.
Collins Library is also hosting our own stitching project described below.  We hope you will Pick Up the Thread!
Pick Up the Thread
Are you inspired by the Interwoven Stories pages?  If so, you have a chance to join our Stitching on Paper project!  The example on the wall was done by Puget Sound student Carlisle Huntington.
Read more about stitching on paper and work of artist Jessica A. Kelly by browsing the articles on the table.
Want to contribute?  Just follow these easy steps:
Select a page from our basket.
Borrow a needle and some thread or use your own.
Fill out a short entry form.
Return your page and entry form to the Library Administration Office between now and December 1, 2019.
We will add your stitched page to this wall!
Stuck for an idea?  Stitch a single word that describes Puget Sound, a favorite quote, stitch around a letter, a note of music or an illustration!