Thanks to an international travel award sponsored by the Samuel H. Kress Foundation and the Art Libraries Society of North America, I had the opportunity to travel 4,400 miles from Seattle to Glasgow, Scotland to attend the Art Libraries Society of UK and Ireland's 50th Anniversary Conference and Celebration.  The support and professional opportunities provided by the Kress Foundation help broaden and enrich the library community and for that I am truly grateful.
Glasgow is a vibrant city with some similarities to Tacoma.  Both are industrial cities with a strong tie to industry and maritime industry with vibrant art communities.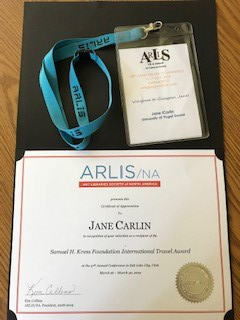 The Conference was held at the University of Glasgow.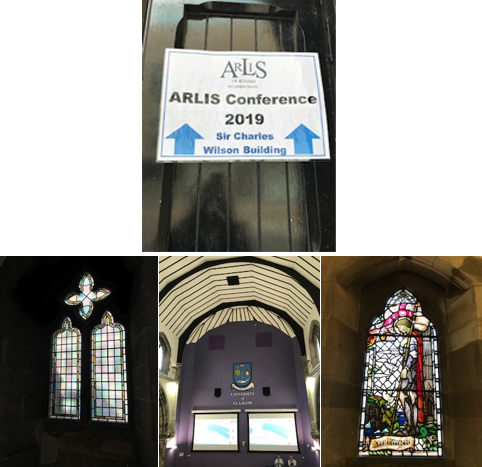 Founded in 1451, the University of Glasgow is the fourth oldest university in the English-speaking world and is rated as one of the top 100 of the world's universities.
The Conference offered the opportunity to engage with ARLIS UK & Ireland colleagues and to learn about new programs and services that are being offered in art libraries.   One aspect of the Conference that is quite different from our ARLIS/NA conference is the scale.  This Conference was much smaller in number and provided unique opportunities to delve into discussions.  The Conference consisted of a variety of plenary sessions, interspersed with panels and lightning rounds.  A great feature of the Conference were the many tours arranged to showcase the unique art and libraries of Glasgow.
Conference highlights are listed below:
Keynote Address: John Scally.  Dr. Scally is the National Librarian and Chief Executive of the National Library of Scotland.  In his address he outlined efforts to elevate the status of the Library and to raise its profile amongst European counterparts.  The Library has over 27 million physical items, and in recent years has begun an aggressive program to expand the digital collections.  Included are excellent digital collections of art and design, medieval manuscripts and maps: https://www.nls.uk/collections/digital-collections
Keynote Address: Robyne Calvert:  From Tome to Tomb:  The Birth, Death, and Reconstruction of Mackintosh's Library.  Art librarians around the world were shocked and saddened to learn about the destruction of the Mackintosh Building at the Glasgow School of Art.  Fire ripped through the building in 2014 and again in June 2018.  Dr. Calvert, a cultural historian, focused on the restoration of the site and reconstruction.
Keynote Address: David Dibosa:  Re-worlding our knowledge.  A thought provoking presentation on how we (librarians) address how we reflect upon the knowledge classification of the past which is often encased, as the Conference abstract states: "in a structure that has historically privileged some forms of knowledge while disregarding others.  For instance, Western perspectives, built up over successive generations are being regarded as skewed; deeply implicated in colonial projects that could not serve the needs of those who have been historically disempowered."
Gustavo Grandal Monteiro, Chelsea College of Art: Decolonizing the art library:  some initiatives at University of the Arts London.  Gustavo's presentation addressed how libraries can proactively address issues of diversity, equality, racism and equality of opportunity.  He referenced the video Decolonizing the University sponsored by the Pluto Press which focuses on the situation at the University of Cape Town to banish the statue of Cecil Rhodes:  https://plutopress.podbean.com/e/episode-12-decolonising-the-university/.  He then turned to some practical examples at the University of the Arts including:
Bec Wonders, Glasgow School of Art: Behind the veil: mapping feminist periodicals, 1970-1990.  Bec discussed her work with largely undocumented collections of feminist periodicals at the Glasgow Women's Library.  Through examination of text, review of letters to the editors, as well as themes, she has used mapping software https://gephi.org/ ) that sheds new light on the discourse of this narrative and allows scholars to re-examine feminist publishing history.
Laura Elliott & Alice Harvey, Goldsmith's University: Liberate our Library:  Embedding social justice work in everyday practice.  This presentation focused on the Liberate our Library initiative that is in place at Goldsmith's as an effort to increase the representation of marginalized voices and diversify the collections.  The presenters offered practical suggestions for how this might be done:

Resistance Researching Workshops: Workshops are designed to ask students to think more deeply about how they conduct research and what the implications are associated with critical evaluation of resources.
Liberate my Degree Book Funds and Purchases: This is a visible and proactive way to showcase the effort and engage students.
Diversity Reading Lists: See more at https://www.gold.ac.uk/library/about/liberate-our-library/

Visit to the Glasgow Women's Library:  I had the opportunity to present at the ARLIS/UK & Ireland Conference in 2018 and made the acquaintance of Adele Patrick, one of the founders of the Glasgow Women's Library and as a result a great collaboration described in #3 below developed.
The history of the organization is well documented on the website:  https://womenslibrary.org.uk/about-us/our-history/.  What strikes me as so impactful is that this organization started out as a truly a grass roots effort that has developed into a major arts center and archival repository celebrating women in Scotland and throughout the world.  We had the opportunity to learn about the organization and participate in a behind the scenes tour of the archival collections.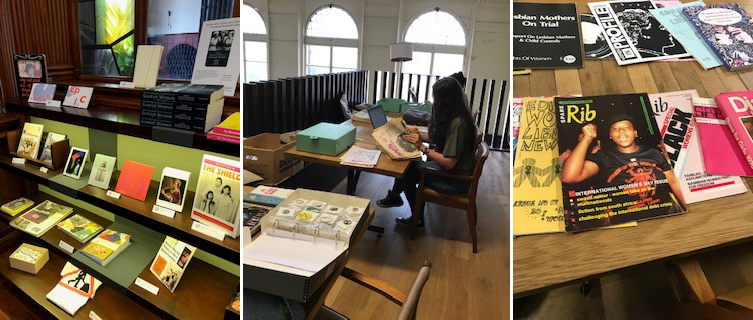 Connecting with colleagues from other countries broadens our horizons and also offers the opportunity to look at our work from new perspectives while at the same time recognizing many of the constant themes of librarianship. This Conference was focused on issues of social justice and equity and as a Library Director for a liberal arts college many of the ideas and programs can be implemented at my own institution.  In addition, the opportunity to continue to build on the collaboration with the Glasgow Women's Library was very important.  In the fall of 2019, the Collins Library will be staging an exhibit titled All Stitched Up.  As part of the exhibit, I have had the opportunity to borrow a work from the Glasgow Women's Library.  Alinah Azadeh's Secret Knowledge takes the form of fabric-covered books wrapped like beautiful gifts.
Secret Knowledge was included in an international touring exhibition entitled Tall Tales in which women explored the complexity of the human experience.  In the work Secret Knowledge, Alinah Azadeh reflects on the long used ritual of textile wrapping of deceased objects; both to separate from and honor the past.
In addition, I have secured grant funding for Adele Patrick, one of the Library's founders, to be in residence at the University of Puget Sound in November 2019 and be a keynote speaker at a one day Symposium associated with the exhibition.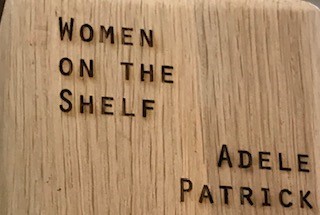 Her presentation is titled:  The threads that bound a spine: art, texts and collaboration in the making of a women's library.  She is an energetic leader in the arts and her work has inspired and enabled women artists throughout the UK to share their stories.  Dr. Patrick has been developing innovative, participatory cultural projects rooted in equalities for over 25 years.  A co-founder of Glasgow Women's Library (GWL) Adele has had a leadership role in forging this influential, change making organization.  Trained as an embroidery and woven textile designer at Glasgow School of Art (where she subsequently taught Gender, Art and Culture), her doctoral research at University of Stirling focuses on feminism and self-fashioning.  In 2016 Adele was awarded Honorary Doctorates from the School and from Strathclyde University and was awarded the honor of being named the Scotswoman of the Year.  In 2018 she began a Clore Leadership Fellowship, her current Post Fellowship research (in collaboration with Goldsmiths, London) focuses on feminist leadership approaches. www.womenslibrary.org.uk.
Without the opportunity to travel and attend the conferences, these international collaborations would not be possible.  This not only impacts my own development, but offers the opportunity to expose and inspire our Puget Sound students and faculty to new ideas and foster additional collaboration.
And some fun facts about Glasgow and Scotland!
Oor Wullie:  Walking around Glasgow there are Oor Wullie statues all over.  I soon found that Oor Wullie  is one of Scotland's favorite comic characters, first established in 1936.  The Oor Wullie statues are part of a nationwide public art trail supporting Scotland's Children's hospital.  Visit this site to learn more: https://www.visitscotland.com/blog/attractions/oor-wullie-bucket-trail/
Below is a photo of an Oor Wullie in the heart of Glasgow.  I didn't quite understand why he has a cone on his head, until I read that the statue of the Duke of Wellington (right next to Oor Wullie) has been wearing a traffic cone for years.  Apparently it started out as a prank and every time it was removed, it somehow mysteriously returned on the statue so has now become a fixture in Glasgow culture.
Whiskey:  You can't visit Scotland without thinking about scotch, right? While the thought of joining a highland scotch tasting tour was tempting, I kept my nose to the ground and focused on the Conference.  However, the Glasgow Airport has a great tasting area where they were most generous with their "wee drams."
Irn-Bru:  This bright orange fizzy drink is a Scottish favorite and some say a staple in every house and is known as Scotland's other national drink. It's so popular, it even has its own tartan.
Battered Mars Bar:  I didn't succumb to this culinary treat, but one of my colleagues did and here is the photo to prove it.  A Mars bar is a lot like a 3 Musketeer.  It is then covered in batter and deep fried.  The perfect accompaniment to your fish and chips!
Tunnock's Biscuits (biscuits meaning cookies):  Tunnock's has been in business since 1890 and these wafers with caramel and chocolate are an alternative to the fried mars bar!  Thanks to the Conference organizers for supplying these yummy treats.
Tea Time:  Kate Cranston was an entrepreneur that was responsible for the rise of the Tea Room in Glasgow.  She commissioned Charles Rennie Mackintosh, the renowned Scottish architect, to design her tea rooms.  The Willow Tea Room, recently restored to full glory, remains a masterpiece of design and beauty.  Glasgow was a center for the tea trade and Thomas Lipton developed his brand in Glasgow.