Lever Press – Supporting Puget Sound Students
with a New Model of Publishing
www.leverpress.org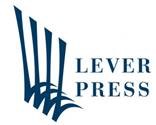 The current generation of college students face many challenges. One of these challenges is access to reliable information which is exacerbated by the dramatic increase in the cost of textbooks and scholarly publications.
The Collins Memorial Library is one of the founding members of Lever Press, an organization focused on publishing open-access scholarly works that align with the mission and ethos of liberal arts institutions. The Press adheres to the highest level of peer review practices and, by making research openly available to all, contributes to the democratization of scholarship.
Collins Library is proud to be part of this nationwide initiative that advocates for an equitable scholarly publishing ecosystem. We are also proud that Professor Brett M. Rogers serves on the Editorial Board of this innovative press that is changing the conversation about scholarly publications.
"Lever Press is working to change the way we think about scholarly publishing, and giving a prominent voice to the distinct ethos cultivated at liberal arts colleges. The press is dedicated to critical rigor while also pushing the boundaries of what kind of work we can do by publishing innovative, digitally native works of scholarship. All of Lever's publications are open access—freely accessible to students and faculty, and easy to incorporate into the modern classroom. This is an exciting initiative to be part of as we continue to demonstrate the vitality and importance of liberal arts education."
—Brett M. Rogers
Lever Press is taking a stand on important questions about digital access in the 21st century — particularly as those questions pertain to the work of liberal arts colleges like Puget Sound.
As stated in a student editorial from Oberlin College:
Lever Press is charting an exciting course, and it will be incumbent on students, faculty, and staff—at Oberlin and elsewhere—to both support their work and consistently push it to be even better. The accessibility of scholarship has had dramatic impacts on the path of human history, and the same will be true of the future. It's in all of our interests to ensure that the liberal arts values enshrined in Lever Press become those that we boldly embrace as we step forward into increasingly uncharted territory.
(retrieved from the web 1/22/2022: Lever press represents lever for change)
Please take a moment to review current press titles. These books are freely accessible and can easily be incorporated into your class website and linked to in Canvas.

We encourage you to think about opportunities to submit proposals to the Press. Puget Sound has a strong foundation of student/faculty led research, innovative pedagogy, and experiential learning. Don't hesitate to contact either one of us to discuss the possibilities.
Jane (jcarlin@pugetsound.edu) or Brett (bmrogers@pugetsound.edu)
For more information on Open Educational Resources, contact Ben Tucker, Scholarly Communications and Digital Projects Librarian: btucker@pugetsound.edu.
---
Need Information? Don't forget the Collins Memorial Library – Library Guides
Questions? Contact your liaison librarian
Comments: Contact Jane Carlin, library director
Remember – Your best search engine is a librarian!
Connect with us!