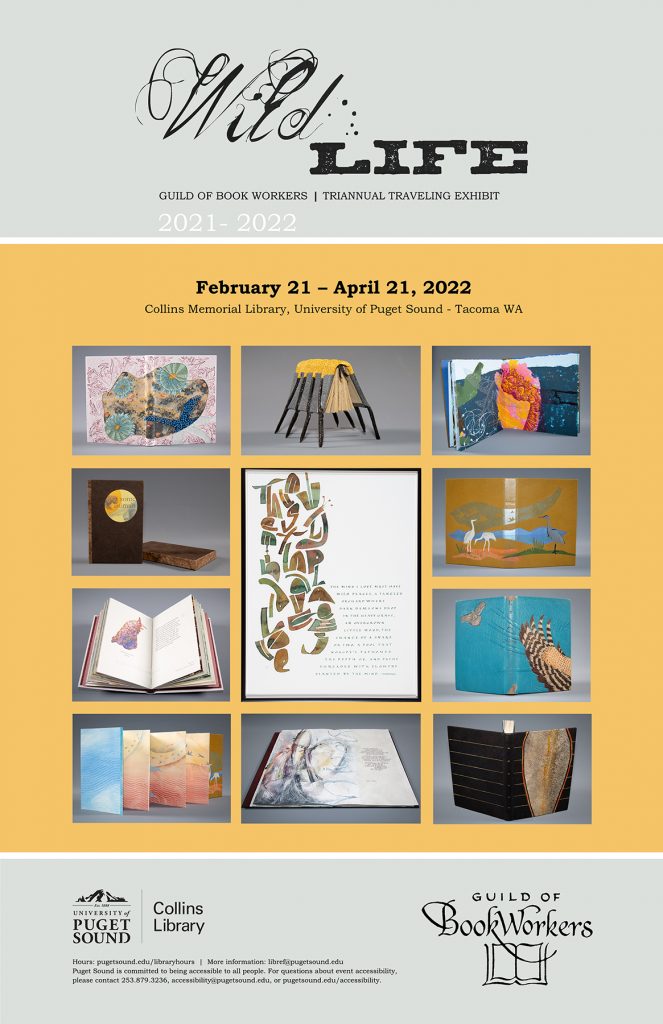 February 21 – April 21, 2022
Collins Memorial Library
University of Puget Sound (masks required) Tacoma WA.
The Guild of Book Workers was founded in 1906 to "establish and maintain a feeling of kinship and mutual interest among workers in the several hand book crafts." Over 100 years later, the Guild is still vital, with regular traveling exhibitions, a journal, ten regional Chapters, and an annual Standards of Excellence seminar. Guild membership exceeds 800 and has expanded internationally. The organization is still run by volunteers. GBW is incorporated as a 501(c)(3) non-profit organization based in New York.
This exhibition will feature approximately 50 works by Guild members. The exhibition will open in the summer of 2021 and travel from five to seven venues across the country, closing in the fall of 2022. Works will include fine and edition bindings, artist's books, broadsides (letterpress printing, calligraphy, and decorative papermaking) and historical binding models. The number of framed wall pieces will make up a very small subset of the entries. Both the bindings and framed works to be exhibited will be selected by a jury to ensure that they are of excellent quality. Previous Guild exhibitions can be viewed online at https://guildofbookworkers.org/galleries.​
Exhibitors:
Eric Alstrom
Alicia Bailey
Leith Calcote
Valerie Carrigan
Rebecca Chamlee
Kyle Clark
Jim Croft
Coleen Curry
Mari Eckstein Gower
Erin Fletcher BB '12
Brenda Gallagher
Suzanne Glemot
Jane Griffith
Penelope Hall
Karen Hanmer
Lang Ingalls
Caitlin Jochym
Peggy Johnston
Meg Kennedy
Beth Lee
Christopher McAfee
Elizabeth Mellott
Patrice Miller
Suzanne Moore
Bonnie Thompson Norman
Emily Patchin BB '16
Graham Patten
Todd Pattison
Beth Redmond
James Reid-Cunningham BB '90
Laura Russell
Patricia Sargent
George Sargent
Mardy Sears
Jillian Sico
Priscilla Spitler
Julie Stackpole
Peter and Donna Thomas
Mary Uthuppuru
Carolina Veenstra
Tom Virgin
Leslie Walthers
Thomas Parker Williams
Charles Wisseman
Stephanie Wolff