The Collins Memorial Library recently purchased the ebook, Black Lives Matter at School: An Uprising for Educational Justice. According to the book's description,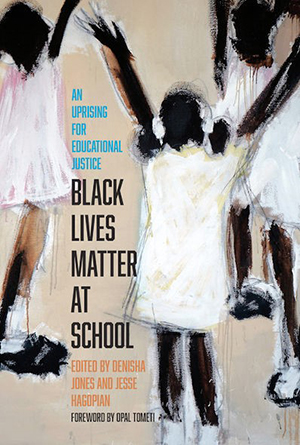 After a powerful webinar that included educators from ten cities explaining the many incredible actions they took in support of the national Black Lives Matter at School week of action, Denisha Jones contacted Jesse Hagopian to propose that they collect these stories in a book. Black Lives Matter at School succinctly generalizes lessons from successful challenges to institutional racism that have been won through the BLM at School movement. This is a book that can inspire many hundreds or thousands of more educators to join the BLM at School movement.
Black Lives Matter at School is a national coalition organizing for racial justice in education. It began in Seattle when John Muir Elementary School educators announced that they would wear Black Lives Matter t-shirts to work. In response, they received a bomb threat from white supremacists. In solidarity, thousands of educators came to school on October 19th wearing shirts that said, "Black Lives Matter: We Stand Together," along with hundreds of families and students.
In the years since, schools across the country have participated in Weeks of Action, holding events for both schools and their communities. The Coalition offers a Starter Kit with resources for schools to host their first Week of Action as well as curriculum materials for every age group free of charge. Additionally, the educators in the BLM at School movement have develop a list of demands for the movement:
End "zero tolerance" discipline, and implement restorative justice
Hire more black teachers
Mandate Black history and ethnic studies in K-12 curriculum
Fund counselors not cops
In the wake of the murders of George Floyd, Ahmaud Arbery, Breonna Taylor, Tony McDade, and others named and unnamed, Black Lives Matter at School launched a new initiative, the Year of Purpose, encouraging educators, students, and parents to participate in ongoing activations and reflection throughout the 2020-2021 school year. Events included Justice for George Day on October 14; Transgender Day of Remembrance on November 20; and International People's with Disabilities Day in December. Events in 2021 include Queer Organizing Behind the Scenes, Unapologetically Black Day, Student Activist Day, and #SayHerName Day.
Denisha Jones is a member of the national Black Lives Matter at School steering committee and Director of the Art of Teaching, the graduate teacher education program at Sarah Lawrence College; and her co-writer, Jesse Hagopian, teaches high school ethnic studies in Seattle and is on the Black Lives Matter at School steering committee.
For more information, see Black Lives Matter at School.