Introduction to Pop-up Book Structures
COLETTE FU,
Creator of the World's Largest Pop-up Book
February 16, 17, & 18, 2018
9am – 5pm
 LOCATION: 2926 S. Steele Street, (2nd floor) Tacoma, WA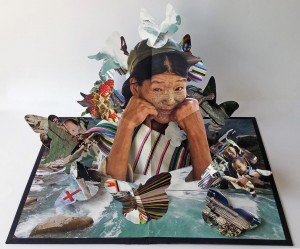 Pop-up book structures can be used to make engaging works of art for any age, from greeting cards to animations to kinetic sculptures. In this 3 day intensive workshop, participants will learn the many basic structures of pop-up paper engineering including angle folds, platforms, and pull-tabs, and how to incorporate them into unique pop-up books, cards, and works of art. Complex pop-up works are created from a combination of basic mechanisms enhanced by your art, playfulness and imagination. All levels of experience are welcome.
Philadelphia based artist Colette Fu received her MFA in Fine Art Photography from the Rochester Institute of Technology in 2003, and soon after began devising complex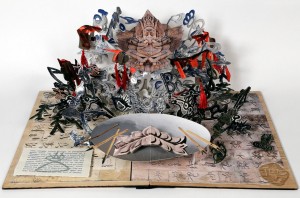 compositions that incorporate photography and pop-up paper engineering. She has designed for award winning stop motion animation commercials and free-lanced for clients including Vogue China, Canon Asia and Moët Hennessy • Louis Vuitton and the Delaware Disaster Research Center. Her pop-up books are included in the National Museum of Women in the Arts, Library of Congress, Metropolitan Museum of Art, the West Collection and many private and rare archive collections. Colette's numerous awards include a Fulbright Research Fellowship to China, and grants from the Independence Foundation, Leeway Foundation, En Foco, Pennsylvania Council on the Arts, CFEVA (Center for Emerging Visual Artists), New York Foundation for the Arts, Virginia Museum of Fine Arts, Puffin Foundation and Society for Photographic Education. Colette's solo show about the minority ethnic groups of China was presented at the National Museum of Women in the Arts in the winter of 2016/2017. A passionate educator, Fu also teaches artmaking as a way to give voice to communities through pop-up paper engineered projects. She teaches pop-up courses and community workshops to people of all ages and marginalized populations at art centers, universities and institutions internationally.  www.colettefu.com
Workshop Fee $300.00 (PSBA members)   $335.00 (non-members)   Materials fee $35.00
Current PSBA members have the opportunity for advance registration beginning January 13, 2018
Registration opens to the public on January 24, 2018
To register: https://psba.formstack.com/forms/colette_fu_workshop
 Artist statement – Colette Fu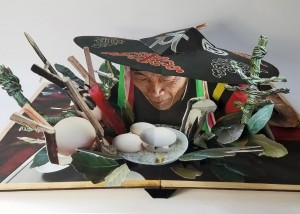 I make one-of-a-kind collapsible artist's books that combine my photography with pop-up paper engineering.  Pop-up and flap books originally illustrated ideas about astronomy, fortune telling, navigation, anatomy of the body and other scientific principles.  This history prompted me to construct my own books reflecting ideas on how our selves relate to society today.
Growing up (in New Jersey), I was not proud of my Chinese heritage. After college graduation, I went to my mother's birthplace in Yunnan Province in Southwest China to teach English.  Literally translating as "South of the Clouds," Yunnan is China's most southwestern Province, sharing borders with Tibet, Burma, Laos, and Vietnam. With snow-capped mountains to the Northwest, and tropical rain forests to the South, Yunnan is rich in natural resources and has the largest diversity of plant life in China. This diversity extends it its population as well. I taught at the Yunnan Nationalities University in the capital, Kunming.  While in Yunnan I discovered that my great-grandfather had not only helped establish the university where I was teaching, but was a member of the powerful black Yi tribe, and governor and general of Yunnan during the transitional years of WWII. I stayed in Yunnan for three years; it was these experiences that helped me find a new sense of pride and identity and encouraged me to pursue a profession as a photographer and artist.
With the help of a Fulbright fellowship, I traveled once again to Yunnan, specifically to photograph for a pop-up book of the twenty-five ethnic minority groups that reside there. 25 of the 55 minority tribes of China reside in Yunnan and comprise less than 9% of the nation's population, with the Han representing the majority. Many people inside China and most people outside are unaware of this cultural richness.  While I am directly unable to help these groups preserve their identity and ways of living, I can use my skills as an artist to spread knowledge and provide just a brief portrait of their existence.  As I grow older I start to understand the importance of preserving one's identity and culture, and the significance of learning one's roots.
In 2014, with the help of a Leeway Transformation Award and the Swatch Art Peace Hotel residency in Shanghai, I returned to China to extend my project outside of Yunnan Province.  For 6 months I traveled between Shanghai and select minority areas in Inner Mongolia, Northwest Xinjiang Province, Hunan, Guangxi, Guizhou and Zhejiang Provinces. I spent this half of the year photographing the minority areas with the goal of making pop-up spreads when I returned back to the US.
My pop-ups are a way for me to speak and inform; the real and implied motion in the pop-ups link to a temporal element and an inevitable corollary is to awe and unsettle. Constructing pop-ups allows me to combine intuitive design and technical acuity with my love of traveling as I try to understand the world around me. With pop-up books I want to eliminate the boundaries between people, book, installation, photography, craft, sculpture.