CONCERTINA STAR TUNNEL BOOK
 Saturday, January 20, 2018
12:30pm – 4:00pm
 Location:   3029 Hoffman Road SE, Olympia, WA 98501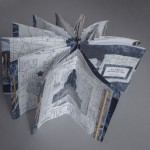 PRESENTER:
PSBA member Elizabeth Walsh
Elizabeth Walsh is a graphic designer for the Washington State Senate.  She has been a
calligrapher/paper & book artist since 1978, attending many international calligraphy conferences.  Elizabeth is also the founder of the Olympia Calligraphy Guild, Nib 'n' Inks, in 1980 and has taken bookbinding master classes with Shereen LaPlantz, Bonnie Stahlecker, Elsi Vasdall-Ellis, Don Guyot, Suzanne Moore, Kevin Steele, Laurie Doctor, and other calligraphers.
WORKSHOP STRUCTURE & DESCRIPTION:
In this binding, we will create five 3-panel star tunnel signatures using Canson Mi-Tientes,
will sew each signature to a narrow concertina, using a 3 or 5-hole pamphlet stitch,
will bind the fore edges with skewers and rubber bands, and
complete the structure with piano-hinged covers.
MATERIALS AND TOOL LIST:
Cutting Mat,
Xacto knife with sharp blades
scissors
bone folder
ruler
glue stick/PVA
small 1/8" hole punch
notebook
pencil for your own personal notetaking.
Provided by instructor: Canson paper, needles & thread, skewers, rubber bands and instructions.
WORKSHOP FEE:
($15) paid to PSBA on day of workshop. Checks (made out to PSBA) or Cash (exact change only).
Space is limited to 9, registration required.
The registration link to Elizabeth's workshop:
https://psba.formstack.com/forms/concertina_star_tunnel_book
For questions about this workshop email: Pat Chupa
pchupawordarts@gmail.com
(email subject line: Elizabeth Walsh mini-workshop question)