Clarissa Sligh—Nationally Renowned Artist and Activist
Fumiko Kimura '77—Sumi Artist
Exhibits and Public Talks
Aug. 28—Sept. 23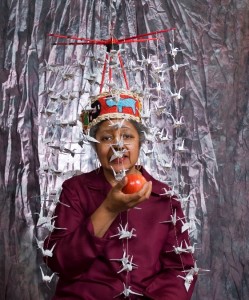 TACOMA, Wash. – Nationally recognized artist Clarissa Sligh is exhibiting her works in a show titled Am I Safe? and giving two public talks during a residency at University of Puget Sound this fall. Fumiko Kimura '77, a Tacoma-based artist working in sumi, an ancient East Asian ink wash style of painting, will hold the exhibit One. Dot. Sumi in the small gallery and also give a talk. The exhibits run from Monday, Aug. 28, to Saturday, Sept. 23, in Kittredge Gallery on campus.
For more than 30 years, Sligh has woven together the cultural, historical, personal, and the political to explore concepts of memory and transmutation, and perceptions of boundaries and identity. Now she brings her creative ideas to two shows that have only become more relevant in light of recent political and social events.
In Kittredge Gallery, Sligh's installations of more than 6,000 folded origami cranes—many from the pages of hate books promoting extreme anti-Semitic, anti-Christian, or racist ideologies—transform hate speech into artworks of calm contemplation. Her artists' books, photos, and prints examine personal identities and fears in an unequal world.
In Collins Memorial Library, a small exhibition of Sligh's artists' books showcasing racial inequality and addressing social justice in our country are on display. Many of her books are autobiographical in nature, touching on issues of race and gender throughout her life.
Sligh will give two public talks. Admission is complimentary and refreshments will be served.
·        Tuesday, Sept. 5, 6–7 p.m.: A book talk, along with partner Kim Purser, in Archives & Special Collections, 2nd floor, Collins Memorial Library
·        Wednesday, Sept. 6, 5–7 p.m.: The opening reception in Kittredge Gallery, with a talk by Clarissa Sligh at 5:30 p.m.
      Sligh's prints, artists' books, and installations have been exhibited at venues including the Museum of Modern Art and the Jewish Museum, in New York; Walker Art Center and Minnesota Center for Book Arts, in Minneapolis; and the National Gallery of Art, Corcoran Gallery of Art, and National Museum of African American History and Culture, in Washington, D.C.
She has been honored with recognitions or grants from the Art Saves Lives Foundation, Shlenker Block Fund of the Houston Jewish Community Foundation, and Blue Spiral 1 Gallery, in Asheville, N.C. Other awards include an International Center of Photography Infinity Award (1995) and fellowships from Anonymous Was A Woman (2001), the National Endowment for the Arts (1988), and the New York Foundation for the Arts: once for artists' books (2005), and twice for photography (1988; 2000).
Sligh was one of the artists in Speaking Volumes: Transforming Hate, an exhibition hosted by Holter Museum in Montana that challenged artists to transform pages of white supremacist books into beacons of hope. Most recently her work was included in the Equal Justice Initiative, curated by Brooklyn Museum.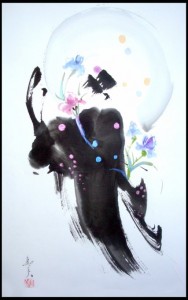 In Kittredge's second gallery, from Aug. 28 to Sept. 23, are works by Tacoma-based artist Fumiko Kimura '77. Kimura's sumi paintings range in scale from the intimate to large installations. Her works are based on Asian-influenced brush calligraphy. They include paintings of landscapes, flowers, insects, and birds, as well as mixed-media collages derived from an experimental approach. The works relate to her experience as a biochemist and her more than fifty years as a visual artist.
Kimura is a co-founder of Puget Sound Sumi Artists in Washington state. She will give a public talk in Kittredge Gallery, 4–5 p.m. Wednesday, Sept. 13. Admission is complimentary.
Sligh's visit and exhibit are supported by the Catharine Gould Chism Fund for the Humanities and the Arts, Collins Memorial Library, Department of Art and Art History, Department of History, and African American Studies.
Kittredge Gallery serves as a teaching tool for the Department of Art and Art History, and a cultural resource for both the university and the community at large, exhibiting work by noted regional and national artists. Exhibits and talks are free and open to the public.
Opening Reception: Wednesday, Sept. 6, 5–7 p.m., Kittredge Gallery; Artist talk at 5:30 p.m.
Book Talk: Tuesday Sept. 5, 5–7 p.m., Archives & Special Collections, Collins Memorial Library
Gallery Location: University of Puget Sound, N. 15th St. at N. Lawrence St., Tacoma, Wash.
Directions and Map: pugetsound.edu/directions
Regular Hours: Monday–Friday, 10 a.m.–5 p.m.; Saturday, noon–5 p.m.
Website: pugetsound.edu/kittredge
Facebook: facebook.com/KittredgeGallery
Newsletter: Signup here
 For accessibility information please contact accessibility@pugetsound.edu or 253.879.3931, or visit pugetsound.edu/accessibility
Blog Post by Shirley Skeel