PSBA is pleased to partner with the Behind the Archives Door Lecture Series at Collins Library to sponsor this presentation.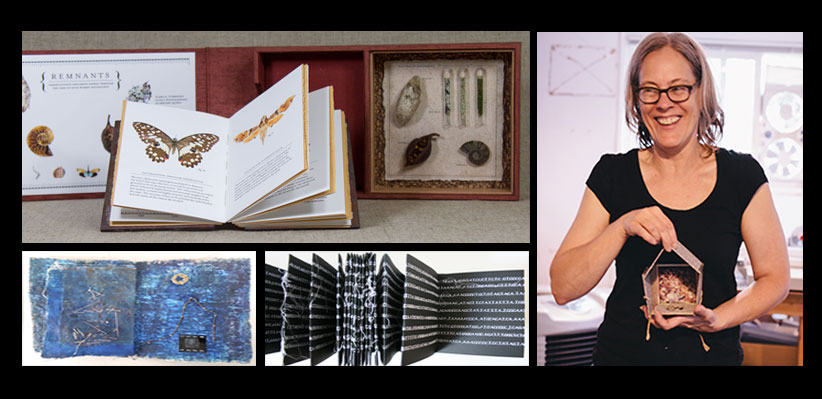 Alicia has a particular passion for works that include elements beyond surface printed images and text; that move beyond traditional book forms and embrace presentation flexibility, rigid page construction and use of alternative materials. For this presentation, Alicia will bring selections from Abecedarian Gallery's recent exhibition Content: Artifact as well as some of her own work to share. After a brief overview of her involvement with contemporary book arts, Alicia will talk about specific individual works, their construction, appeal and relevance, with opportunities for questions from the audience and hands on examination of some very special book works.
The presentation will be on November 3, 2015 from 4:00 – 5:00 p.m. in the Archives Area in Collins Library.
Alicia is affiliated with several artists' book professional organizations and has served on the Executive Committee of Guild of Book Workers since 1998. She is owner/director of Abecedarian Gallery in Denver, Colorado, founded in 2007 and focused on the exhibition, promotion and sale of contemporary artists' book works. Alicia also acts as an independent curator/juror, instructor/mentor and regional events coordinator in the book arts. In her studio work, she has focused on book arts since the mid-nineties, producing artists' books, sculptural books and limited edition books. Her work has been featured in dozens of solo and group exhibits throughout the world and is held in numerous public, private and special collections.
Learn more at http://www.abecedariangallery.com