One almost has to be in two places at once to be as prolific as Helen Hiebert, paper maker, sculptor, book artist, lecturer, teacher and movie star, to name only a few of her attributes. June 29th, Helen Hiebert, visiting from her studio in Vail, Colorado presented a lecture about herself and her work to the Puget Sound Book Artists and guests at Collins Library, the University of Puget Sound.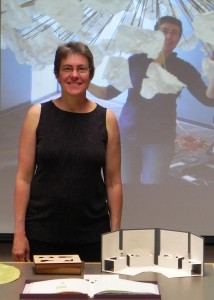 Pushing the boundaries of paper as a medium her expertise was on display whether in the making of a sheet of paper from cotton pulp or her paper sculptures created by the shrinkage of the fiber as it dries.   Helen's time lapse video of how her paper sculptures are created was particularly mesmerizing. Viewing the resulting installations as she spoke about her work, served to inspire the captivated audience even more.
Helens website at helenhiebertstudio.com begs to be visited by book artists and artists alike. Once there the reader will find something for everyone. Of particular interest is the Red Cliff Paper Retreat which according to her website is taking registrations now. Don't forget to also peruse her library of "how to" books. In addition to being a successful paper artist, Helen also demonstrates her capacity to teach and share what she knows with others.   Her books, also available from her website, include, The Papermaker's Companion: The Ultimate Guide to Making and Using Handmade Paper, Papermaking with Garden Plants & Common Weeds, and Paper Illuminated to name only a few.  We should all be so inspired as Helen Hiebert.
Blog by Mark Hoppmann
Photo Credits: Mark Hoppmann