In celebration of Puget Sound Book Artists 5th Annual Membership Exhibition a call was put out to all members of PSBA to submit a page to be bound into a 5th Anniversary Book. Each page was to be 5" x 5" using the theme of "five".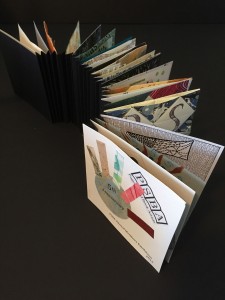 "In numerology, the attributes of the number 5 are freedom, choices, curiosity, adventure, change and life lessons learned through experiences.   These all pertain to attributes found in our journey as members of the PSBA.  What an adventure it has been and certainly life's lessons learned pertains, and loved it every step of the way.  Thank you for its adventure that hopefully is just beginning."
"Lily Richmond, member PSBA
An Gates, head curator for this years exhibition is currently designing and creating a special clam shell box which will house the book when completed.  The book will then be available for viewing at Collins Library, the University of Puget Sound.
Twenty-four artists submitted a page: Mary Ashton, MalPina Chan, Pat Chupa, Debbi Commodore, Deb Creveling, Pat Exworthy, An Gates, Mari Eckstein Gower, Deborah Greenwood, Carol Hannum, Mark Hoppmann, Kim Izenman, Bonnie Julien, Lynne Knopp, Bonnie Larson, Dorothy McCuistion, Peter Newland, Gina Pisello, Lily Richmond, Carole Sauter, Marilyn Stablein, Elizabeth Walsh, Jan Ward and Don Whiting.
A special Thank You to each of you for contributing  to the creation of this book.   Below, we have selected a few images from the book for your enjoyment.
 An Gates Head Curator, 2015 PSBA Members Exhibition
 Blog by An Gates
Photo Credits: An Gates