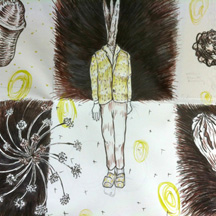 Artists know there is more than one way to see.   We sketch what is immediately in front of us, which can be interpreted in infinite ways, leaving us open to criticism from others who state emphatically, "That's not what it looked like at all." Or, we practice the alternative, sketching with something vaguely known as the "mind's eye", in which case most people walk away without saying a word, as if what we have on our minds is just too strange to address.
Walking along the beach or sitting on a patio, we see a composition, a pattern, or perhaps even a moment. Like everyone else, we see what is in front of us. Unlike the vast majority, we feel compelled to set it down on paper before we forget, or lose the image forever; or maybe not. What if the vision is simply stored away, only to be reincarnated with the smallest provocation, days or maybe even years later, but now, slightly askew? Is the mind's eye simply the culmination of a lifetime of experiences and memories that are just now finding their way back from where ever they have been stored patiently waiting for just the right moment for us to see them again?
Drawing from multiple sources, Kate Kern, obviously, has found her own way to see.  It is as if Kate is seeing what is in front of her and her mind's eye simultaneously.  Whether walking around an installation titled, Red Animals, created from A Golden Nature Guide, or looking at a sketch titled March 1996-Opened, one appreciates the serendipity of the mind's eye, combined with a lifetime of experience. Or perhaps we are just seeing the soul of the artist.
Kate Kern is a visual artist who makes drawings, artists' books, and installations. Born in Milwaukee, Wisconsin, she received a BFA from the University of Dayton, Dayton, Ohio and an MFA in drawing from the University of Cincinnati, Cincinnati, Ohio. Kern has been the recipient of grants from the City of Cincinnati, the Ohio Arts Council, Arts Midwest and Summerfair. She was a finalist in the Cincinnati Art Museum's inaugural 4th Floor Biennial Award for Contemporary Art.  Her work was included in the exhibition in print, International Drawing Annual 6, published by Manifest Drawing and Research Center. Solo exhibitions include: Small World, Aisle Gallery, Cincinnati, OH; Always and Everywhere, Springfield (OH) Museum of Art; Attract Year Round Beauty, Weston Art Gallery of the Aronoff Center for the Arts, Cincinnati, OH. She is a visual artist in the Ohio Arts Council's artist-in-residence program. In 2011 she was a fellow at the Virginia Center for Creative Arts in Amherst, VA.  Recently she curated and had work in the collaborative exhibition Wounded Home at the Lloyd Library and Museum and had an etching in Clay Street Press' Cincinnati Portfolio IV, published in 2013. Her work can be found in collections including: The Akron Art Museum, The Cincinnati Art Museum, The Getty Research Institute, Joan Flasch Artists' Book Collection, School of the Art Institute of Chicago; Franklin Furnace /MOMA Artist Book Collection, MOMA library, and the Artists' Book Collections of Carnegie Mellon University, University of Cincinnati, Brown University and others.
To find out more about Kate Kern and her work, visit her website at www.katekern.com
Blog by Mark Hoppmann
Photo Credits: Kate Kern