From Richard at ARLIS, Jan. 21st 2015:
The winter 2015 exhibitions open at the Center for Book Arts in New York City this Friday, January 23, 6:00 -8:00 pm, and there will be an Open House with demonstrations on Saturday, January 24, Noon-3:00. Information ios at the Center's sparkling new website <http://centerforbookarts.org>
If you or your constituency are doing book art research and need to access the Center's 40-year archive of exhibitions 1974-2014, which includes about 200 exhibitions and 3,500 artists, the existing version is temporarily being maintained at
<http://www.centerforbookarts.net/exhibits/archive>
until the data is fully populated on the new website. Please do not post links to that on web pages, as it will be obsolete in about six months. At that time The archive will be searchable at the new site, and browsed in the new site's "Past" exhibitions. You can see info about some of the recent shows, and keep up to date with current exhibitions at
<http://centerforbookarts.org/see/>.
__________________________________________
From Jane Carlin, January 2, 2015
WILLIAM MORRIS BROADSIDE
LIMITED EDITION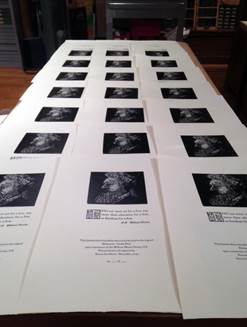 The William Morris Society of the United States is pleased to announce a limited edition of 100 signed and numbered unique broadsides printed on the very press Morris once used!  The print was made on the Kelmscott-Goudy Press (now at the Rochester Institute of Technology in Rochester, New York) and each print was hand inked using Van Son rubber-base black ink and printed over the course of two days.  The broadside was printed on Zerkall paper, which was cut to retain a deckle on one edge.  Zerkall is a German paper mill which dates back to the 16th century.   The typefaces used include Ornament, Troy, and Golden — all of which were designed by Morris.  The artist commissioned is Steven Lee-Davis, a former student of Barry Mosher and printer at the Roycroft Shop in East Aurora, New York.  The portrait is accompanied by a quotation from Morris, "I do not want art for a few, any more than education for a few, or freedom for a few."
The broadsides will be sold to benefit the William Morris Society. Copies are available at a cost of $50 each plus $5 shipping. Orders should be sent with check (written out to the William Morris Society/US) to Jane Carlin, Library Director, Collins Memorial Library, University of Puget Sound, 1500 N. Warner St. #1021, Tacoma, WA. 98416-1021
Learn more by visiting the website of Lee Davis and to read about the famous press used to print the broadside at the Rochester Institute of Technology website.
____________________________________________________________
From the NWBooksArt List/Serve:  August 24th, 2014
Dear Book Arts Community,
Here is a listing of the weekend workshops and 5-10 week classes we are offering this semester at Oregon College of Art and Craft.
Sign up early for and get an early-bird discount. Check other discount opportunities in the pull-down menu!
Weekend workshops:
Millimeter Binding with John DeMerritt:   Friday evening October 17 and all day Sat/Sun October 18/19.
The Book Restructured: Wire Edge Binding with Daniel Kelm:   Friday evening November 7 and all day Sat/Sun November 8/9
Evening classes:
Make Your Own Sketchbooks and Artist Portfolio with Marilyn Zornado: Monday evenings, October 13 – November 10
Beginning Printmaking: Etching, Chine Colle and the Layered Print with Nancy Prior: Wednesday evenings from October 8 – November 12
Introduction to Letterpress Printing with Larissa Hammond: Tuesday evenings 6:30-9:30pm September 23 – October 28
Letterpress for Graphic Designers with Clare Carpenter: Thursday evenings 6pm-9pm, October 9 – November 6
Book Arts | Oregon College of Art and Craft
_____________________________________________________
From The Barn: August 12th, 2014
The Barn
Book Arts Group Meeting Tuesday, August 19, 7 pm to 9 pm
The first meeting of this new BARN group welcomes anyone interested in bookbinding. Help shape the future of this group, bring projects to show and tell, and share information about suppliers.
For more information about The Barn, visit: The Barn, or for information on the book arts and printmaking, email: M. J. Linford