From Elizabeth Walsh: June 14th, 2014
Elizabeth Walsh's entry for this years Graceful Envelope Contest was selected for Honorable Mention.  Sponsored by the  Washington Calligrapher's Guild in Washington, DC and co-sponsored by the National Association of Letter Carriers, this year's theme, "The Superlative Letter S" reminds us the letter S also stands or U.S. Postal Service, six days a week, including Saturday.   The exhibition will be on display in the lobby of the National Association of Letter Carriers in Washington, D.C.  for the year.  You may also click on the link to visit the Calligrapher's Guild online and view the 2014 Graceful Envelope award winners.
On behalf of the PSBA, Congratulations Elizabeth!
____________________________________________________________
Ink This! Contemporary Print Arts in the Northwest
June 7—November 9, 2014
During the last few decades the print arts in the Northwest have flourished from the founding of a number of influential fine art presses and organizations to university and other educational opportunities and the thriving regional communities of letterpress and book artists that have come together. Ink This! surveys this rich and varied body of work and explores the expanding definition of what it means to be a print artist in the Northwest. Organized by Tacoma Art Museum.
______________________________________________________________
Artist Trust is coming to Tacoma! We hope you can attend one or both of these exciting, career-boosting events — and please spread the word! Register for I Am An Artist by May 30 to receive a reduced rate!
Saturday & Sunday, June 14 & 15, 2014, 9am-4pm both days :: University of Puget Sound, Tacoma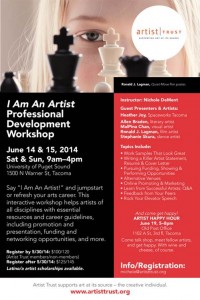 Say "I Am An Artist!" and jumpstart or refresh your arts career! This interactive workshop for artists of all disciplines includes:
• Work samples that look great
• Writing a killer artist statement, résumé & cover letter
• Pursuing funding, showing and performing opportunities
• Guest presenter, Heather Joy, from Spaceworks Tacoma, discusses Alternative Venues
• Online promoting and marketing
• Learn from a panel of successful artists: Q&A
• Feedback from your peers
• Rock your elevator speech
Early Bird Special (Until May 30): $100 ($120 for non-members)
ARTIST HAPPY HOUR
Thursday, June 19, 2014, 5-8pm :: Old Post Office, Tacoma
What's the most important thing you can do to advance your arts career? Expand your network! Come talk shop, meet fellow artists and have a good time. With wine and cheese, of course.
Cost: FREE for Artist Trust members. Suggested $5 donation for non-members.
 ______________________________________________________________
From Mary Jeanne Linford:   April 19th 2014
Bainbridge Island (an island in the Puget Sound a 30 minute ferry ride from Seattle) is in the formation stages of starting an artisan center (named BARN…Bainbridge Artisan Resource Network…visit the web site at http://bainbridgebarn.org/ ).  We are in the planning stages of program development, membership, etc.  There will be a wonderful bookbinding and printmaking component, and we are currently gathering materials and equipment.  Future goals are: a vandercook sp15, polymer plate exposer, bookbinding presses and other equipment, including a board shear, etc.  Although we are in the planning stages for the big facility, we will be opening for 'business' in May.  If you are interested in this program, either to take classes, join other book artists for discussion, etc, or using equipment, (or just because you think it is cool…), please respond to me privately off the list at mjlinford@att.net.  I look forward to hearing from you, and showing you what we are planning to accomplish…the vision is to eventually rival Haystack, Sitka, and Penland in reputation and quality!  Other disciplines include woodworking, fiber arts, literary arts, jewelry, metal arts, printmaking, glass, electronic and technical arts, welding, and culinary arts.
—
Mary Jeanne Linford
Book Arts Rep
"BARN's mission is to build and support an open, inter-generational community of artisans and makers who are dedicated to learning, teaching, sharing, and inspiring each other with creativity, craftsmanship and community service."
"Education is what makes your thoughts worth more than a penny."
______________________________________________________________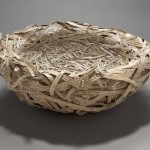 From Holly Senn, April 14, 2014
Holly Senn, PSBA member, who's  exhibition  Scavenged   was held at the Kittredge Gallery at the University of Puget Sound, October 7-November 9  2013, has just added a video of the installation to her website.  We've just added the link to the video of the installation to our resource page.  Visit Holly's website and click on the video to watch.
______________________________________________________________
From the Cincinnati Book Arts Society: April 14th, 2014
Our own Diane Stemper (Oxford, Ohio) is on her way to New York City this week to help install an exhibit of her work as a Featured Artist at The Center for Book Arts. Titled Diane Stemper—Sample Close at Hand, the exhibit opens April 18 and runs through June 28. For more information on the Cincinnati Book Arts Society or the exhibition:  The Cincinnati Book Arts Society
_____________________________________________________________
From Vamp & Tramp Booksellers: April 4, 2014
We have published our annual spring catalog. " 50 books around $50″  To view,  go to www.vampandtramp.com and click on the link.
___________________________________________________________