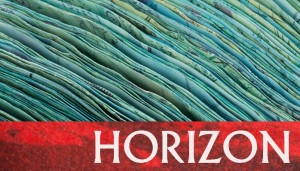 Thanks to William Shakespeare, the Ides of March is permanently etched into our consciousness.  This time, it will be remembered as  a collective accomplishment between the Guild of Book Workers, The University of Puget Sound, and Pacific Lutheran University.   It might be said, the symposium actually began February 3rd with the opening at Collins Library on the University of Puget Sound Campus, of The Horizon Exhibit: The Art of The Book, a collection of works by the Guild of Book Workers, which runs until March 30th.   Early in the planning for the exhibition, the Director of the Northwest Chapter of the Guild of Bookworkers and Jane Carlin, Director of Collins Library at the University of Puget Sound envisioned a symposium to accompany the exhibition and to be held March 15th.
During the morning of the Symposium, Suzanne Moore, Monica Holtsclaw, and Susan Collard, three members of the Guild of Bookworkers and whose work are part of the exhibition, will participate in a panel discussion moderated by MalPina Chan, a member of the Puget Sound Book Artists.  Participants will later have the opportunity to exhibit and talk about their own work, in addition to viewing selected works from the Collins Library Collection.
In the afternoon, the Symposium moves to the Pacific Lutheran University Campus at Ingram Hall where attendees will view an exhibition, The Art of Wayzgoose, as well as a tour of Elliot Press and The Boge Library, viewing a collection of recently donated books about calligraphy and typography, before moving on to a presentation by Jessica Spring  and Chandler O'Leary.
With 70 book artists attending, the Symposium offers an opportunity to mingle with artists established in their field as well as artists who are just beginning their new found love of the book arts.  It is an opportunity to exchange new ideas as well as meet new people.   Unlike Julius Caesar, we will live to remember the day.
blog: by Mark Hoppmann
photo credits: The Guild of Book Artists, Jessica Spring