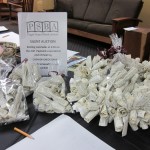 As if the excitement of the Holidays wasn't enough, the Puget Sound Book Artists Annual Meeting is less than a month away.  Perhaps meeting is the wrong word.  Calling the event the Puget Sound Book Artists Annual Party might be more apt.  More than just your typical, run of the mill, garden variety annual meeting, it is also an opportunity to meet our newest members, display and discuss your newest work or projects with fellow artists, enjoy a snack or refreshment, and support the PSBA by renewing our membership and bidding on those gotta have items at the silent auction, all while learning about the programs and workshops planned for 2014.
If all or part of the above is not enough to induce everyone to attend the festivities, then take note.  Some surprises have been included in this years meeting.  As most of you may already know, artist and designer Jennifer Kennard will be discussing her current exhibition at Collins Library, Camp Stories.  As for the other surprises, well they wouldn't be surprises if I told you what they were.  You will just have to come and see.  Let's just say you will not leave disappointed.  See you there!
The Puget Sound Book Artists Annual Meeting
January 15th:   6:00 to 8:00 pm. 
Collins Memorial Library
The University of Puget Sound