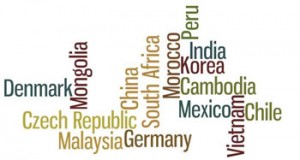 Studying abroad next year, or just finishing up this semester, did you know that there are many services available to you provided by Collins Library.
Of course all of our online resources are available to all of our students from anywhere that they have an internet connection.  Check out our Research by Subject pages to get started on whatever topic you're interested in.
Have a question, you can take advantage of our 24/7 chat with a librarian service.  Or email your subject liaison librarian for in-depth assistance with your research.
If you need a journal article, or a book chapter, that's not available online you can place an interlibrary loan request for that material, and an electronic version can be sent to you.
This semester librarians have received many inquiries from students all over the world.  Questions have ranged from a student in China asking about the history of beekeeping, to a student in Peru who is researching youth activism there, and a student in Malaysia who is researching how the news portrayal of Muslims in China and Malaysia has changed since 9/11 and the U.S. wars in the Middle East.
Liaison librarians have worked with students studying far and wide.  See some of the countries represented this year in the image above!