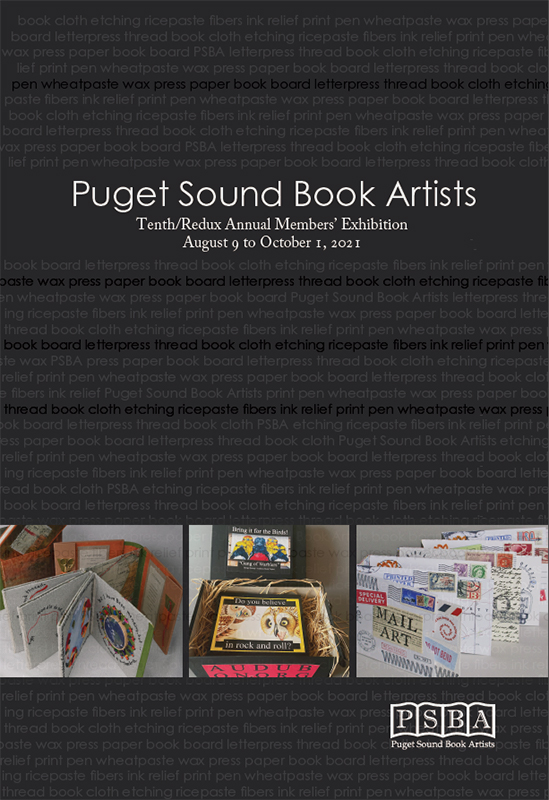 2020 was the 10th anniversary of the Puget Sound Book Artists.  This grass roots organization started with just a few members and a big dream.  It has evolved into an organization of over 100 members with a robust program of workshops, presentations and an annual exhibit.  While plans for the 2020 10th anniversary exhibit were shelved due to COVID, it is with delight that we welcome back the Puget Sound Book Artists and the 2021 PSBA 10th Redux Annual Member's Exhibition.  Visit the exhibition Monday – Friday from 8:00 am to 5:00 pm.  Masks are required as well as an in person visitor-login.
Visit the PSBA web site for updates about virtual presentations associated with the exhibition:  https://pugetsoundbookartists.wildapricot.org/
What makes this exhibition so special is that it is curated by members for members with the support of the Collins Library staff. Collins Library Director, Jane Carlin, had a chance to connect with the curatorial team for a Q&A recently.
Jane: How challenging was it to curate an exhibition during a pandemic?
The main challenges were: scrapping your previous processes, formats, and procedures in the face of a real possibility we would be unable to have a physical exhibition with in-person viewing. We had to think outside the box. Learning curves were steep, but not insurmountable: to incorporate streaming events, meetings, and digital sharing of images. Timing of production of a physical catalog was changed, which gave us (the curators) as well as the artists more time to complete our art and have the necessary imagining time for a new design. Photography required the creation of a mobile photo shoot set-up brought to the artists' homes. That was pretty creative!
Jane: As curators, you made the decision not to establish awards this year, can you walk us through that decision?
After a good discussion, we felt that for this year we would forgo the awards piece, considering the added complexity of virtual exhibition events, the constraints of the exhibition mounting, and the time constraints and life-issues affecting the team members. We determined we would highlight a range of artists (new to experienced, different structures, etc.) in our events to feature what are in our estimation exceptional pieces… We also felt strongly that the ordeal for all our artists over the past 18 months has added difficulty to our creative process we want this exhibition to celebrate their persistence in getting these pieces done. The celebration of our 10/11 years as a vibrant organization is particularly a testament to its strength: in how we turned adversity into opportunity. We are now emerging from our cocoons with new ways of sharing our work, broader and more inclusive connections to our communities, new venues for teaching, sharing, and making that will take us forward into this new way of living.
Jane: Have you noticed any theme of the exhibit?
Originally the 2020 exhibition was on the theme of Transformation. Little did we suspect how prescient that would prove to be! Moving beyond that theme, we find our submissions clearly reflect and amplify the issues we all encountered in our self-isolation: facing illness, healing and loss, nature/nurture, climate, race and inclusivity, issues of freedom and responsibility.
Jane: What events do we have to look forward to?
We invite members and friends of PSBA to peruse the images of this year's work through the on-line catalog and consider ordering your own copy from Blurb, sit in on the Artists' Conversation Zoom event and Zoom Panel Discussion presentation, and be sure to visit the show now that the doors to Collins are open.
---
Congratulations to all the artists in the exhibit and a special thank you to the members who coordinated this year's exhibition.
Curatorial team members:
Exhibition Coordinator:
Sally Alger
Selection & Installation:
Sally Alger, Pat Chupa, Helen Edwards, Rachel Watson
Volunteer Support:
Debbi Commodore, Becky Frehse, Peter Newland, Jan Ward