Peggy Firman, Associate Director for Resource Management Services for the Collins Memorial Library, is retiring after a career that has spanned over three decades.  I recently had the chance to sit down and talk to her about her work and the many changes she has seen as well as her accomplishments!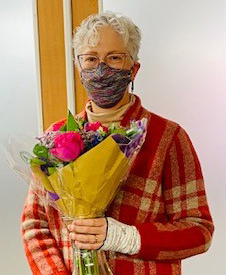 A lot of people reading this post might wonder what does Resource Management Services entail? Can you tell us a little about the services you oversee?
Resource Management Services works to provide access to learning materials. This involves determining our users' academic needs, purchasing and leasing materials, describing, preparing, enabling discovery, and organizing these materials, evaluating electronic packages for best price and for actual use, licensing, creating links and checking access to electronic materials. It also involves locating open access materials and making sure they are listed in our library's discovery layer, Primo. In related work, Ben Tucker has been working with open educational resources and exploring its promise and use on campus.
As you reflect upon your career you have witnessed a lot of change. Can you comment on the move from the card catalog to the electronic and digital environment?
The resources we provide in 2022 could not be fully described or maintained in the card catalog environment. In 1990, you had to physically visit the library to use the catalog, which listed works only by title, author, subject or series, and which included only Collins' physical materials. With our current discovery layer, students can search from where they are using the internet. They can search on previously provided terms but also on keywords, dates, material types, language, standard numbers and call numbers, and they can combine search terms together. They also can find materials included at a more granular level: articles, book reviews, and chapters. Discovery is much more intuitive than in the past. And the quantity of data is so much greater!
What you have described is pretty remarkable! It is amazing to think of all the changes you have encountered over the years. What is your advice to those just entering the profession about dealing with change?
Think critically and embrace the change.
What are you most proud of?
In 32 years and 11 months, I never lost my key to the library. Although now I am probably jinxed.
One final question – what is your "next chapter" going to include?
Gardening, planning adventures, traveling, cycling, learning to make a really good cup of coffee, and reading for pleasure.