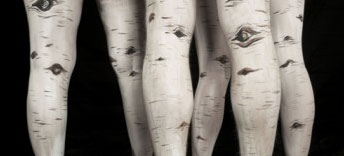 Jennie Noreen is the 2012 recipient of the 10th annual Library Art Award for her collection of unique and creative photographs which will be displayed in the library for one year. To make her photographs, Jennie uses the body as her canvas and paints works of nature, including trees and animals, on human skin.
Jennie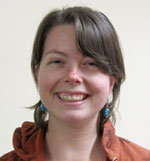 grew up in Gunnison, Colorado and became interested in art when she took classes in high school from an inspirational teacher, Erin Vokoun.  An outdoor enthusiast, Jennie enjoys the beauty of the environment. Her appreciation of the natural world influences and informs her work as an artist. She is particularly fascinated with human forms and patterns of nature. Jennie attributes the playfulness of her work to her Ewok heritage.  After graduating with a Bachelor of Arts degree in Studio Art at Puget Sound, Jennie will spend the summer as a river guide in Utah. In the future she wants to keep making art and exploring different parts of the world.  Congratulations, Jennie!
Artist's Statement
Human beings take themselves quite seriously. We are the only species that seeks to visually communicate ideas through our clothing, how we carry ourselves, or do our hair. By removing these visual accessories, an abstract nude form allows some assumptions and judgments to fall away. Here, patterns found in nature can be reflected on the body, mirrored in parts, or wholes, and a raw figure opens a space for a unique interpretation to fit a familiar form. My approach fosters a new way of thinking about how the human body is represented, how we conceptualize and identify with personality, and how these ideas come together to inspire expression.