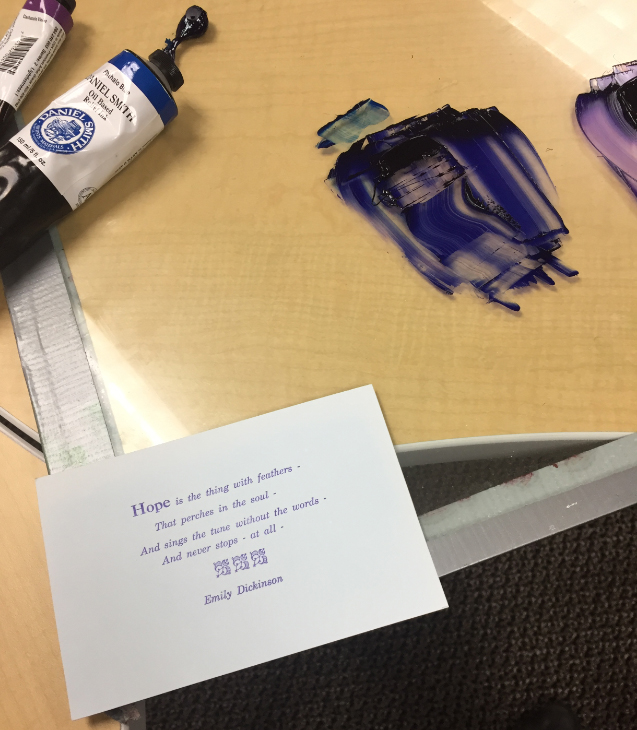 Poems can offer solace, enrich our lives and some even offer hope.  Emily Dickinson's poem "Hope" Is The Thing With Feathers is one of the best known of Emily Dickinson's poems. An extended metaphor, it likens the concept of hope to a feathered bird that is permanently perched in the soul of every human. There it sings, never stopping in its quest to inspire. (source:  https://owlcation.com/humanities/Analysis-of-Poem-Hope-Is-The-Thing-With-Feathers-by-Emily-Dickinson).
Several years ago, members of the Collins Library staff  hand printed this small keepsake under the direction of local printer Taylor Cox.  We think the message resonates today and we hope you do as well.
"Hope" is the thing with feathers
By Emily Dickinson
"Hope" is the thing with feathers –
That perches in the soul –
And sings the tune without the words –
And never stops – at all –
And sweetest – in the Gale – is heard –
And sore must be the storm –
That could abash the little Bird
That kept so many warm –
I've heard it in the chillest land –
And on the strangest Sea –
Yet – never – in Extremity,
It asked a crumb – of me.