Did you know you don't even have to leave campus or spend a dime and still have a great night out! That's right – just check out one of our many great DVDs – simply follow this link and browse the many titles you can check out from Collins Library.
You can search feature films, and even search for motion pictures. You can quickly find films you'd like to watch by searching the title of the movie, too. Even if we don't have it here at Puget Sound, we can often request the film through Summit.
Just go to Puget Sound WorldCat (or the search box on the library home page) and enter the title of the movie you're looking for. You might find your movie right away, but if you get a lot of results, you can also limit to just movies by clicking the 'Video' facet on the left of your results: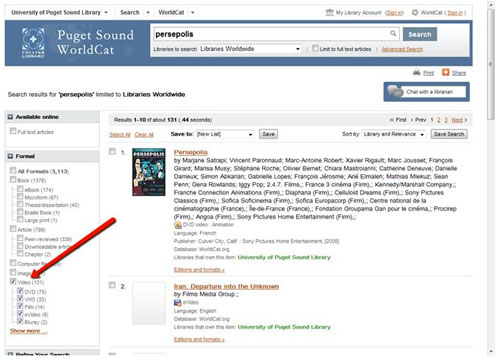 Then, if the movie is at Collins, you're good to go! If it's not, but is available through Summit, just click the Summit request button, fill out the form, and you'll usually receive the movie in about five business days.