For over a decade, the Collins Memorial Library has sponsored an award for an outstanding graduating Art major. Each year a Library panel convenes to preview the senior show and after much discussion selects the winning artwork. The artist is awarded $250 and the honor of displaying their artwork prominently in the library for one year.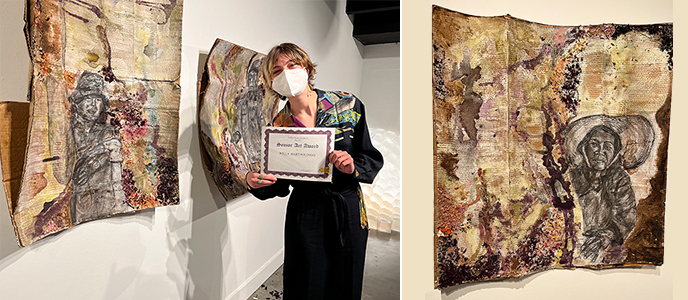 Collins Library is pleased to bestow the 2022 Senior Art Award to Willa Bartholomay!
Excerpts from Willa's Artist statement:
"People, place and materiality are the three vessels that hold stories from which I draw inspiration for my art. Community gardens tell stories about the connection between people, people and the earth's materiality. Additionally community gardens hold a radical aspect necessary for cultural survival. They are inserted in cities that focus on the built world and infrastructure, holding a contrasting space that honors growth, resilience, and the communal over the individual. Gardening is a way of life with stories to tell and lessons to teach."
"In allowing the community garden ethos to guide my process, I abided by a central rule: all material must be able to be planted back into the Earth."
"These paintings/collages/studies speak to the beauty and connection between the people and place found in the Viet Huong Community garden."
Some of the Library panel's comments regarding Willa's artwork:
"We loved that their work beautifully portrayed the local Viet Huong community and their relationship and work in community gardens here in Tacoma."
"All of us were especially enamored of Willa's commitment and their labor intensive process. Their use of natural and discarded materials was both beautiful and appropriate: linseed oil, earth, lily, rose, cardboard, rabbit skin glue. The work was time consuming, and lovingly handcrafted. Over time, it will react to its environment, expanding, cracking, absorbing, ultimately fading into a warm autumnal glow. A visual palimpsest."
"The values of the artist show through in the materials and the stories they chose to highlight."
"Intersections between people, place, and materiality are emphasized and communicated beautifully in the artist's composition."
We are thrilled to honor Willa with this year's Senior Art Award and look forward to exhibiting their work in Collins Library in the upcoming year. Congratulations, Willa! ​
---
Library Jurors:
Hilary Robbeloth, Associate Director for Resource Management Services, Digital Services
Katy Curtis, Humanities Librarian
Jamie Spaine, Administrative and Special Projects Coordinator
Nick Triggs, User Experience and Discovery Librarian​