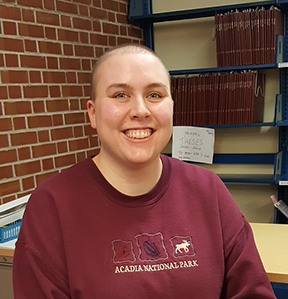 Autumn Raw '19, English major with a minor in P&G, has accepted an internship offer from the Smithsonian Libraries in Washington D.C. In honor of the Smithsonian's 50th Anniversary, this internship program was created to help introduce students to the realm of museum and research libraries.  This is  a once-in-a-lifetime opportunity to work side by side with expert Smithsonian Libraries and Smithsonian staff to acquire the latest skills, knowledge, and hands-on experience needed for today's information and cultural heritage marketplace.
Autumn will be a Discovery Services – Digital Presence and Footprint intern working full time for eight weeks beginning in June 2019.
Autumn's job assignments as a student employee in Collins Library have been many and varied. She has worked behind the scenes in Resource Management Services since beginning at the University of Puget Sound in the fall of 2015. She has worked as an Acquisitions assistant for Carmel Thompson helping to process orders placed by librarians and faculty, and process shipments with their accompanying invoices for books and other library materials. After her time spent in London studying abroad during her junior year fall semester, she worked on a special project for Peggy Firman creating labels for Chinese language books. She has also served as a selector for our popular reading collection for two years, recommending approximately 100 books selecting for a broad appeal. Her final spring semester at Puget Sound finds her working in both Acquisitions and Cataloging & Processing where she assists Willow Berntsen readying new materials for the library. This involves applying book covers, labels, and security measures. Her abilities and eagerness to assist library staff has meant she's worked on numerous library projects over her career at Collins Library.
Autumn is an enthusiastic advocate of the importance of libraries. She's inquisitive about the selection process and the operation of the library, archives, and special collections. Her interests led her to take the Humanities 399 class, a digital humanities honors course that dives into the workings of a 21st century library. The Collins Library staff look forward to reports from the Smithsonian Library and beyond, as Autumn explores her options and pursues her passions after graduation.