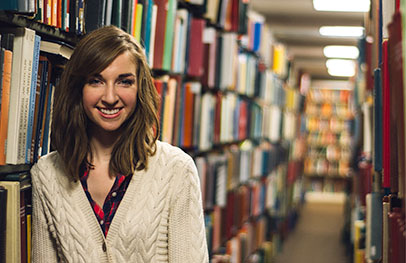 We are excited to welcome back Adriana Flores as our new Archivist & Special Collections Librarian.  Adriana will join us in mid-July as soon as she wraps up her current work at the Howard Gotlieb Archival Research Center at Boston University, where she serves as an Assistant Archivist for Acquisitions.  In this role she is responsible for a wide range of services including working with donors, managing collections, assisting researchers and working with faculty to promote the use of primary source materials in their classes.  Adriana completed her M.S. in Library and Information Science from Simmons College in 2016 and is a 2013 graduate of Puget Sound.  She has her B.A. in English with a Writing, Rhetoric and Culture Concentration.  In 2014, Adriana was awarded a Mosaic Fellowship from the Association of Research Libraries and the Society of American Archivists. The Mosaic program promotes much-needed diversification of the archives and special collections professional workforce by providing financial support, practical work experience, mentoring, career placement assistance, and leadership development to emerging professionals from traditionally underrepresented racial and ethnic minority groups. In addition, Adriana has worked on a variety of digital projects as well as developed programs at Boston University.  She is very engaged in professional development activities and currently holds a leadership position in the Students and New Archives Professionals Roundtable of the Society of American Archivists.  She is a frequent blog contributor and you can read her Year in the Life posts:
Year in the Life Part 1  and  Year in the Life Part 2.
She has also contributed to the series Archivists on the Issues with a blog post on mentoring. In addition, Adriana served as a digitization intern at Densho:  The Japanese American Legacy project as well as at the Port of Tacoma. Adriana brings a love of Puget Sound, enthusiasm for the Library and a commitment to engagement.
Learn more about Adriana in our interview below.
What excites you about returning to Puget Sound?
I'm so excited to be returning to the campus I love. I look forward to reconnecting with past professors and staff supervisors, as well as working with plenty of fellow alums who have also returned to Puget Sound. I'm also excited to reacquaint myself with the Archives & Special Collections materials and explore new ways to connect the collections with students, faculty, and staff.
Tell us a bit about the work at the Gotlieb Archives and how that might translate to Puget Sound?
I've developed many skills at the Howard Gotlieb Center that will translate to Puget Sound. In my position I do a little bit of everything: I accession new materials, process collections, supervise student employees and interns, work with researchers, as well as plan and execute education and outreach events. Most importantly, I love working with Boston University's students and I know the same will be true at Puget Sound as well.
In 2014 you were appointed an Association of Research Libraries and Society of American Archivist Mosaic Fellow – can you provide some insights into this program?  What did you learn?  Did you make connections in the profession?
The Mosaic Program is a wonderful opportunity for archival students from diverse backgrounds to receive academic and professional support during graduate school. The program provides an academic scholarship, a paid internship (which I did at the Howard Gotlieb Center), and funding to attend SAA's annual conference and ARL's Leadership Institute. The program provided me with multiple mentors and has supported me through every stage of my early career. Additionally, I made many lasting professional relationships in my cohort as well as the cohorts before and after mine. It's a great community to be a part of and I'm so grateful that I was selected for the program.
Anything else you would like to share!
In my free time, I love going to the movies, reading, playing tennis, and crafting. I've recently learned how to knit and I love exploring new ways to be creative and work with my hands.