Celebrating Libraries and Librarians
This week marks National Library Week and there are a number of ways you can show support not only for Collins Library and its staff, but also on a national level.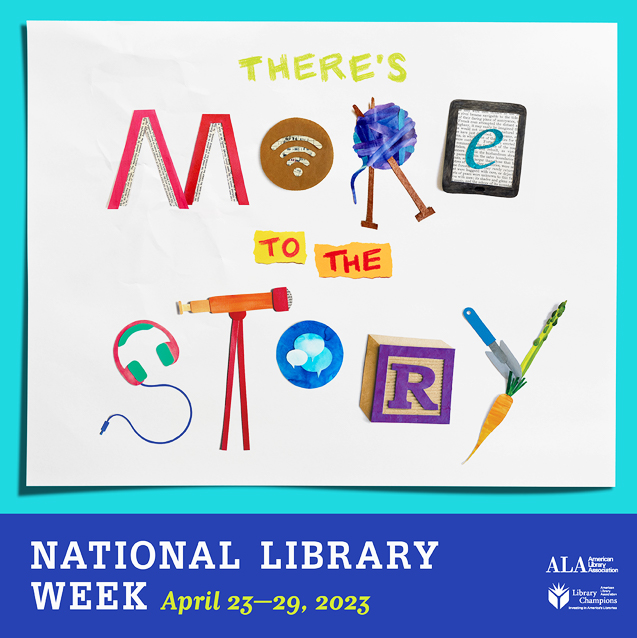 1. I invite you to read my Letter to the Editor which appeared in the Chronicle of Higher Education in response to an article titled: The Librarians are not OK. In the letter I urge faculty and administrators to value the contributions of academic librarians and to be sure to include them "at the table" when making critical decisions concerning student success.
2. Visit this link to read a wonderful poem written by retired Professor Hans Ostrom. The poem was shared with the American Library Association and is a moving tribute to the profession.
Thank you Hans!
An excerpt:
Librarians know where wisdom's stored.
They catalogue the countless forms
Of silence and tell people what they
Didn't know they wanted to know.
They treat the mentally fractured
As if they're whole, the dull as if they're
Sharp, Winter as if it's Summer.
3. Stand up for librarians, libraries and the freedom to read. The past few years have seen an unprecedented number of book challenges as well as threats to library staff who stand up for the freedom to read. Some public and school librarians have actually lost their jobs for refusing to remove books from their collections. Write your member of Congress to let them know you support libraries.
4. Finally, if you have benefited from a rush order of a book you had to have for class, have received a link to a streaming media program, have received an interlibrary loan in rush time, or engaged with a librarian in the classroom, the A&SC or the Makerspace, then share your appreciation. A thank you goes a long way!
Jane Carlin / Library Director
University of Puget Sound, Collins Memorial Library
1500 N. Warner St. CMB 1021
Tacoma, WA 98416
phone: (253) 879-3118
Pronouns: she/hers/her
http://pugetsound.edu/library
University of Puget Sound is on the traditional homelands of the Puyallup Tribe. The Puyallup people have lived on and stewarded these lands since the beginning of time, and continue to do so today.
---
Need Information? Don't forget the Collins Memorial Library – Library Guides
Questions? Contact your liaison librarian
Comments: Contact Jane Carlin, library director
Remember – Your best search engine is a librarian!
Connect with us!