A New Chapter for the Library!
It has been a pleasure to serve as the Director of the Collins Library for the last fifteen years. So much has taken place in the Library through the years. We have added new resources, services and transformed our spaces, established the Archives & Special Collections, and have engaged the community with exhibits and events and of course, developed a top notch team of library professionals. We all stand behind the following statement and I know that the library staff are committed to maintaining our standards of excellence! A heartfelt thanks to each and every one of my colleagues and to the Puget Sound community for your support of the Library.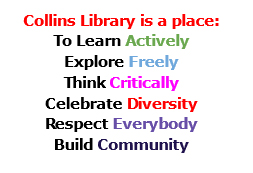 Looking Ahead:
There will be many changes coming to the Library in the coming months, but change does not deter us! Already we have a number of programs in place for the fall. Please contact libref@pugetsound.edu for more information.
Tacoma History! Jane Connelly, our Archivist & Special Collections Librarian, has arranged to have a travelling exhibit focusing on Tacoma History in the Library this fall. The TPL has been leading a major public history program called ORCA (Online Records and Collections Access) which is a digital discovery database for the Northwest Room and Community Archives Center at Tacoma Public Library. Materials from the City of Tacoma Office of the City Clerk are also available. The exhibit will feature information on this wonderful new community resource and introduce our new students to the City of Tacoma!
DREAMS: DREAMS is an international juried artist book exhibition which will be on display in Collins Library from August 20 – November 17. From the exhibit prospectus: Dreams allow us to experience worlds beyond borders, barriers, and binaries. They are narratives that grow out of our waking experiences into the fantastical, unexpected, and strange. Sometimes vivid, other times elusive, dreams can immerse us in hope and beauty. Their meaning and mechanics are a mystery. In dreams, we can encounter the impossible. This exhibit features artists whose book arts reflect the sensory and emotional nature of dreams, your personal dreams, or dreams you hold for others. The exhibit is sponsored by 23 Sandy Gallery in New Mexico and juried by Erin Mickelson, gallery owner, Sha Towers from Baylor University and Jane Carlin.
Schedule a Reading Night in the Library: As we plan for the fall semester, the Library has been brainstorming ways to help students make the time and space in their lives to sit down and focus on one of the most essential parts of studying: doing the reading for class. Please consider booking a space in the Library. The Library will provide the snacks and a dedicated quiet space with comfy furniture. Consider incorporating this as a regular weekly reading meetup where your students can drop by, leave their phones in their pockets, and buckle down to read! Interested? Email libref@pugetsound.edu.
Research Practices and Makerspace Innovation Awards! We are delighted to announce two new awards that will be offered this academic year. Details are still being worked out, but these awards will recognize excellence in research methodology as well as showcase the innovation taking place in the Makerspace. More information will be shared later in the fall semester.
Welcoming New Students! We have sent our incoming students a welcome card about library services and resources with a special invitation to stop by our public services desk to pick up a sweet Tacoma treat this fall! (spoiler – the sweet treat is none other than Tacoma's Almond Roca!)
Promoting an inclusive and welcoming environment: If you have stopped by the Library this year, you will notice we have been maintaining displays for the various recognition months celebrated by the university. We will continue this practice and remind you that we have set aside special funding to support diverse collections. We encourage you to recommend titles for our collection.
Jane Carlin / Library Director
University of Puget Sound, Collins Memorial Library
1500 N. Warner St. CMB 1021
Tacoma, WA 98416
phone: (253) 879-3118
Pronouns: she/hers/her
http://pugetsound.edu/library
University of Puget Sound is on the traditional homelands of the Puyallup Tribe. The Puyallup people have lived on and stewarded these lands since the beginning of time, and continue to do so today.
---
Need Information? Don't forget the Collins Memorial Library – Library Guides
Questions? Contact your liaison librarian
Comments: Contact Jane Carlin, library director
Remember – Your best search engine is a librarian!
Connect with us!