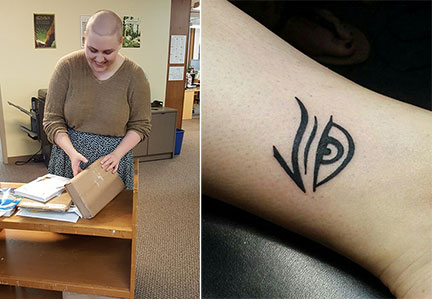 Autumn Raw works in Resource Management Services as an Acquisitions Assistant. This position assists the acquisitions supervisor with placing firm orders for library materials, preorder searches the catalog for order requests before placing the order, and unpacks and processes invoices for new materials.
How would you describe your job?
In practical terms I process the new material that arrives every single day to the library, but in realistic terms I: open packages, sustain several paper cuts, wrestle with cardboard boxes, and scare myself when I accidentally pop the bubble wrap. For a job at the library it is quite physical, but that's probably just because I have weak arms, and cardboard boxes can be tricky. One of the best parts of this job though is that I see a book from the instant a professor requests it, to when it arrives and is officially invoiced. There's just something that is so neat about seeing a title on the screen, and then actually holding the physical book in my hand.
What do you like best about working in Collins Library?
The people I work with are who make this job so much fun to do, because although it can seem tedious at times, the general atmosphere and interactions are enough to bolster a waning attitude. I've some of the nicest people working at the library, and some days coming to work is the actual highlight of my day. The people here are witty, caring, and in general promote an inclusive and kind atmosphere that is great to be a part of!
What's your favorite childhood book?
When I was younger I was completely obsessed with "A Series of Unfortunate Events" by Lemony Snicket. I was really morbid for a little kid from suburban Minnesota. Around the same time I started to read Snicket I was also getting into Edgar Allen Poe, and the two just fit hand-in-hand. "A Series" is this perfect blend of dark humor, romance, and absurdist horror that was unlike anything I had read at the time, and still haven't yet really found in other novels. Neil Gaiman comes quite close, but otherwise this series stands alone.
As I've grown older, and begun to do some writing of my own, this series still has quite the effect on me. Before I turned 18 I knew that I wanted a tattoo, but for a while was unsure about just what I wanted. Didn't take long, however, to think that the perfect first tattoo would be a homage to the series that dominated my childhood, and continues to still inspire me. The main villain of the series, Count Olaf, has a tattoo of an eye above his left ankle, and I followed suit. For the most part I have to briefly explain it (I don't get that far before the person recognizes the allusion. Typically the ones who recognize it the quickest are the ones my age), but it's always so great when someone sees the tattoo and immediately recognizes it!