Experiential learning is integral to the opportunities for learning and growth that our department supports.  Students, staff, and faculty engage in high impact, experiential learning practices.  Puget Sound defines experiential as follows:
Experiential learning utilizes direct experiences to integrate academic theories and skills by encouraging intellectual risk, uncertainty, or indeterminacy. Direct experiences encompass a variety of activities including internships, service learning, undergraduate research, study abroad, field work, simulations, public presentations or exhibits, publications, and other creative and professional work experiences.
Enjoy the following profiles of how members of our department's community engage in experiential learning.
Walker in Vienna!
Junior Walker Hewitt is studying this fall at the IES Vienna European Society and Culture program this fall.  Many of our majors have selected this program because of its focus on the arts.
As a visitor who doesn't speak German in Austria, just navigating the city on a daily basis is an adventure. It pushes me to do my best to learn new language and respectfully interact with a new culture. This position has given me a new self-awareness about how I go about everyday life and exist as a part of a community. 
The most impactful way the Austrian culture has affected me during my study abroad experience is the saturation of art in the city of Vienna. This sentiment applies to a majority of major European countries, but I feel like I'm being steeped in an arts focused environment. Being in Europe has made seeing so many highly regarded art works, movements, and ideas so accessible. Especially with my program we have museum passes and take weekly trips to art museums, collections, and significant architectural accomplishments. I'm so privileged to receive this opportunity and it's deeply enriching. 
Walker visiting the Reichstag in Berlin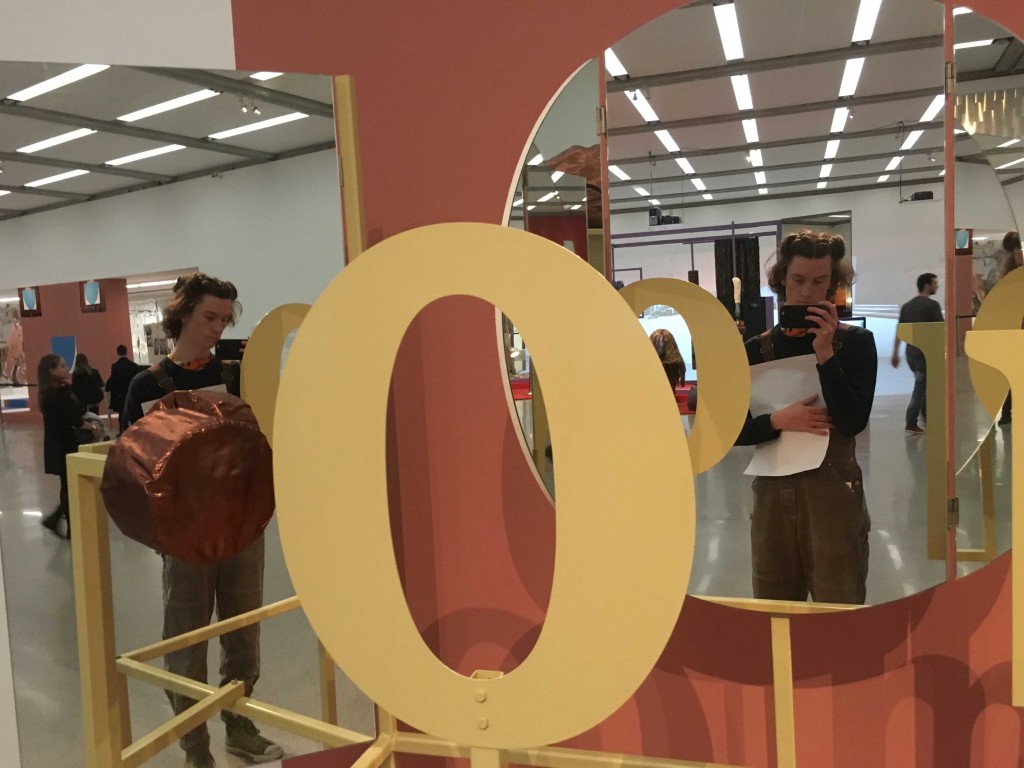 Exposure to art past and present are a strength of this and multiple other study abroad programs!
Walking taking in the spectacular scenery near Vienna
---
Kiri in Dijon!
Senior Kiri Bolles studied in Dijon, France last spring semester.  The Dijon Semester in France program was started by Professor Emeritus Michel Rocchi in 1985 and is run by Puget Sound's Department of French Studies.
My study abroad program provided one experience above all that I will never forget – we were put with host families. My family was new to the program, which can create a lot of difficulties, but I found in my host mother a second mom, a teacher, a confidant, and a friend. Neither of my host parents spoke any English, which challenged me to really improve my French in order to connect with them. My host mom (her name is Elisabeth) works for the mayor of Dijon as a city planner – a job that challenges her and pushes her limits as a creative thinker. Even with all the work she has to do through her job, Elisabeth still somehow finds time to create. She works with watercolor, sculpts clay, and even paints on porcelain. It was fascinating for me to observe and work with such a talented and complex woman, who more than anything strove to create images with as few strokes of the brush or pencil as she could. Coming from an artist much older and wiser, this fascinated me as someone who obsesses over detail. I think she influenced the way I think about art in a huge way, not to mention life in general.
We all learn about the famous, French impressionists in art history. When you've made it through countless years of art schooling you grow to know Monet's and Van Gogh's paintings as well as your own work. You know the waterlilies and orchards they've portrayed. Visiting France is like stepping through the paintings into the artists' world. Setting foot on the places they stood with your own easel and paints, seeing what they saw through your own eyes and brush.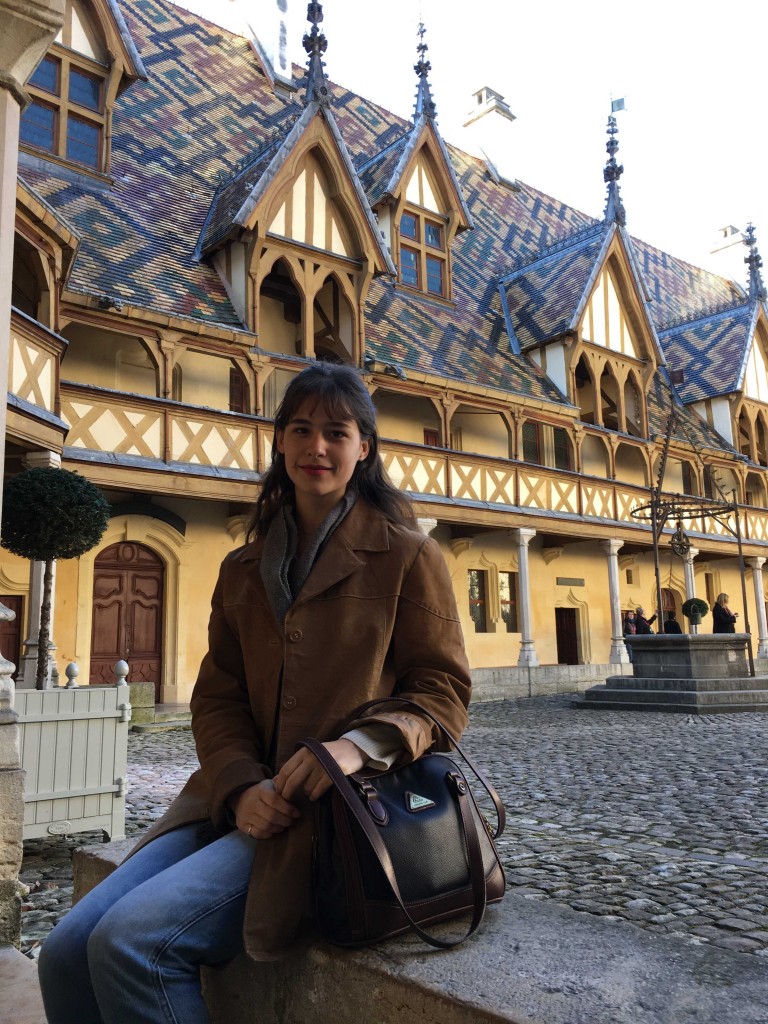 Kiri in Beaune, France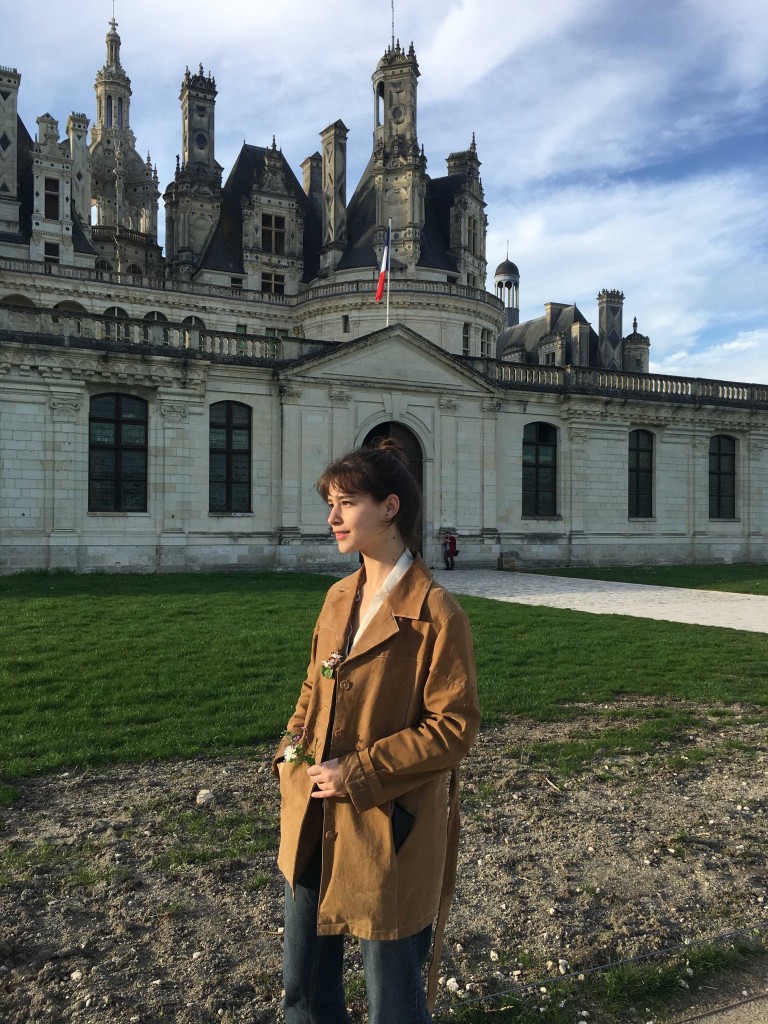 Kiri at a castle filled with wonderful art!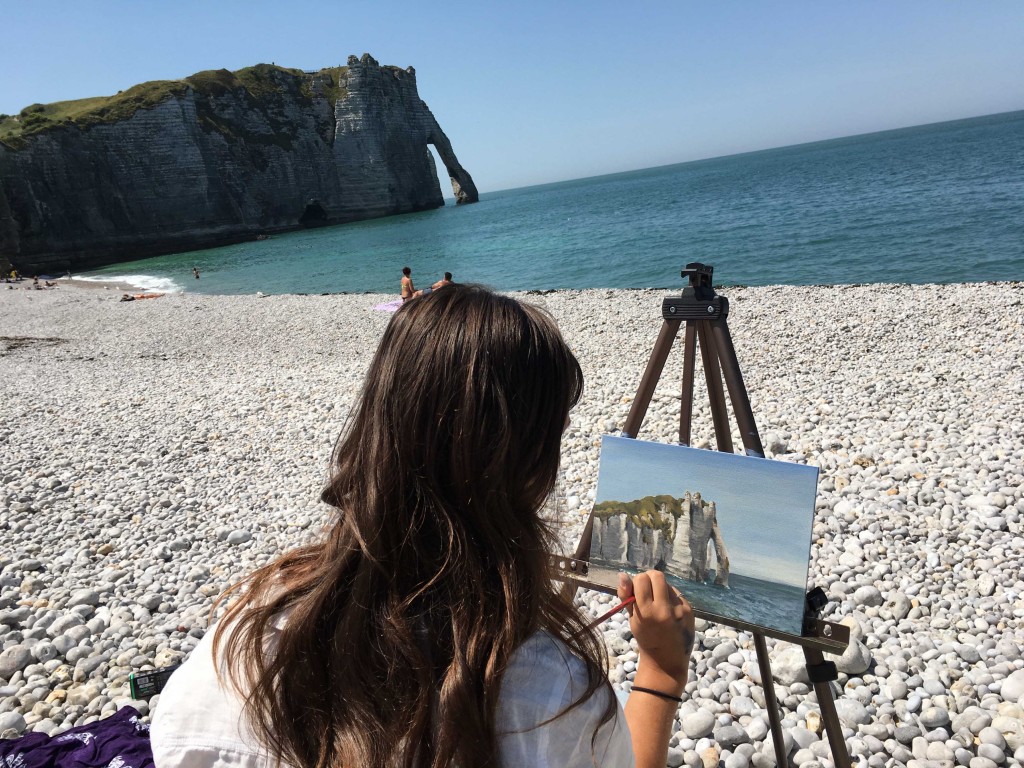 Painting en plein air
---
2017 AHSS Summer Research recipient Andriana Cunningham and Elayna Caron spent the summer engaging in research that informs their art while making new work.  Their projects embody the liberal arts ethos and speak to the importance of independent research in promoting serious artistic growth.
Andriana Cunningham
nectobibulus de aminicus
foam, paint, wood
This sculpture was inspired by a number of different natural forms where the connection between these forms was the influence of water.  Of the images included here, the two photographs of red rock nodules were taken in Little Wild Horse Canyon in Utah. The multi-colored, drippy drawing was also done in the canyon. Little Wild Horse Canyon is a slot canyon formed by water billowing through these narrow passages during flash floods.  The canyons are dangerous to be in even when the sky above is blue because a rainstorm miles away can induce a flash flood in the canyon, where water rushing through and can become a dangerous wall of fast moving water that is no match for a hiker.  The other photograph and drawing are from a Middle Piney Lake in one of Wyoming's State Parks. When I was there in June the lake was still halfway frozen over and the vacillating pattern of the melting ice reminded me of the smooth rocks in the canyon.  When I was in the studio after my road trip, these abstracted, holey images were present in many of my sketches and it only made sense to attempt to translate them into sculptures.  I imagine this sculpture to be an undulating, alive creature that lives in streams and rivers.  I see the holes being a dynamic- opening and closing- capturing bacteria and small fish for the creature to eat. 
---
Elayna Caron, A Study of a Practice
In the summer of 2017 I created a research project called 'The Study of a Practice'. In this research project, I interviewed yoga teachers and artists about what it means to have a spiritual or artistic practice. In my interviewing, I found the most important part of a practice is to show up for oneself fully committed to taking time to find a flow between breath, mind, and body. If that is on a yoga mat, in the studio or in nature, showing up is both the hardest and most important part of creating a practice. After interviewing each person, I created a practice for myself in reflection to each person I interviewed. I attempted to take on the rituals of each practice by doing research on what kind of work they created. I was able to create a room for myself in which I embodied each person I interviewed, through color, scent, sound and touch I meditated on the lesson from each person I talked to. The idea of having a room of one's own was both liberating and necessary to make the deeply emotional work I was trying to express. Each time I entered the space I made a conscious effort to leave any negative feelings at the door. I practiced meditation when I first entered, then planned a yoga practice around the painting I was working on at the time. I kept a journal of my meditations and used those writings as ways to enter into my painting practice.  I brought the studies of yoga philosophy into my practices by reading about modern ideas about philosophy and journaling about the Yamas and Niyamas (rules and restraints) of yogic philosophy and adapting them into my daily life. I cultivated a consistent practice of yoga, painting, and mindfulness over my summer and I could not have done this without a room of my own. I learned that sometimes, stepping away from a painting or a practice can be the most powerful thing an artist can do. I allowed myself to let my work breathe, and with that, I was allowed to breathe.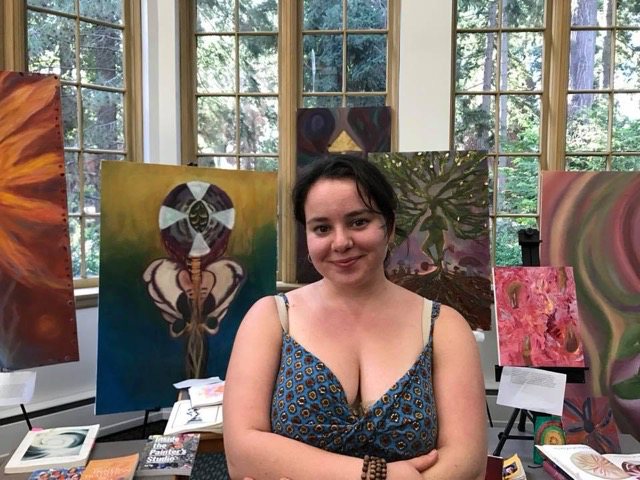 Elayna at the 2017 AHSS Research Symposium
---
Printmaking Workshop in San Francisco
Professor Janet Marcavage attended an intensive advanced etching workshop at Crown Point Press in San Francisco. Faculty perpetually engage in the risk taking, collaboration, and direct learning practices that are hallmarks of experiential learning!
This past July, I was thrilled to attend a week-long advanced etching workshop at Crown Point Press in San Francisco as part of my pre-sabbatical activities. Crown Point Press is a long-established print publisher specializing in limited edition etchings; they hold workshops for only a few weeks in July. The workshop allowed a group of us from all over the US and from other countries to learn from Crown Point's knowledgeable and talented Master Printers. Crown Point has a very large workspace with several presses, tables, and specialized equipment for making etchings with various approaches. I was able to refine my plate-making approaches with a particular focus on aquatint, a process that allows for soft values.  I really enjoyed working with spit bite aquatints, where the mordant is painted directly onto a rosined plate. From the experience at Crown Point, my hand-wiping technique also improved, allowing for greater nuance in my prints. It was fun to make new prints, meet other artists, collaborate, and see a wide range of prints being developed.
 A work in progress
Fun with ink!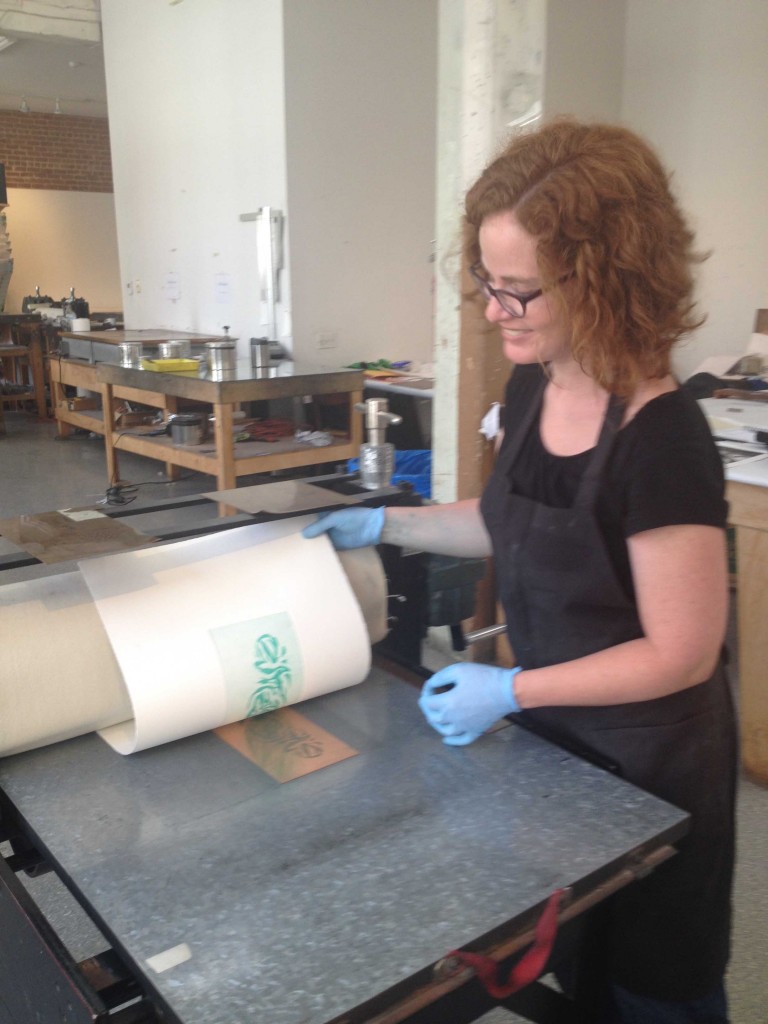 Hot off the press!