The Art and Art History Department blog celebrates the endeavors that enrich and individuals who form our compelling and diverse community.
Catch up with 2016 Senior Graduate Summer Residents Carly Brock, Grace Best-Devereux, Rachel Kalman, and Gaby Yoque!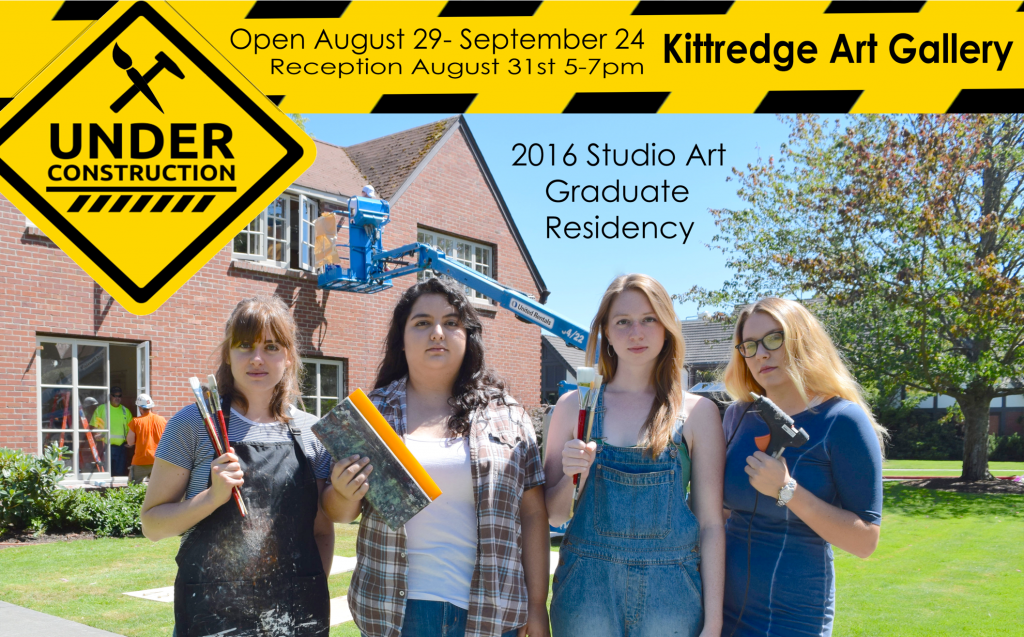 It's hard to believe it was just over a year ago when four recent are majors participated in a ten-week summer residency in Kittredge Hall.  Each resident first traveled to see significant art collections, public art, and/or exhibits that informed her artistic development.
The 2016 Senior Graduate Summer Residency was funded by an anonymous donor to support each participant's artistic growth.  All four of the summer residents are continuing to pursue enriching and impressive opportunities in the field of art.
Grace Best-Devereux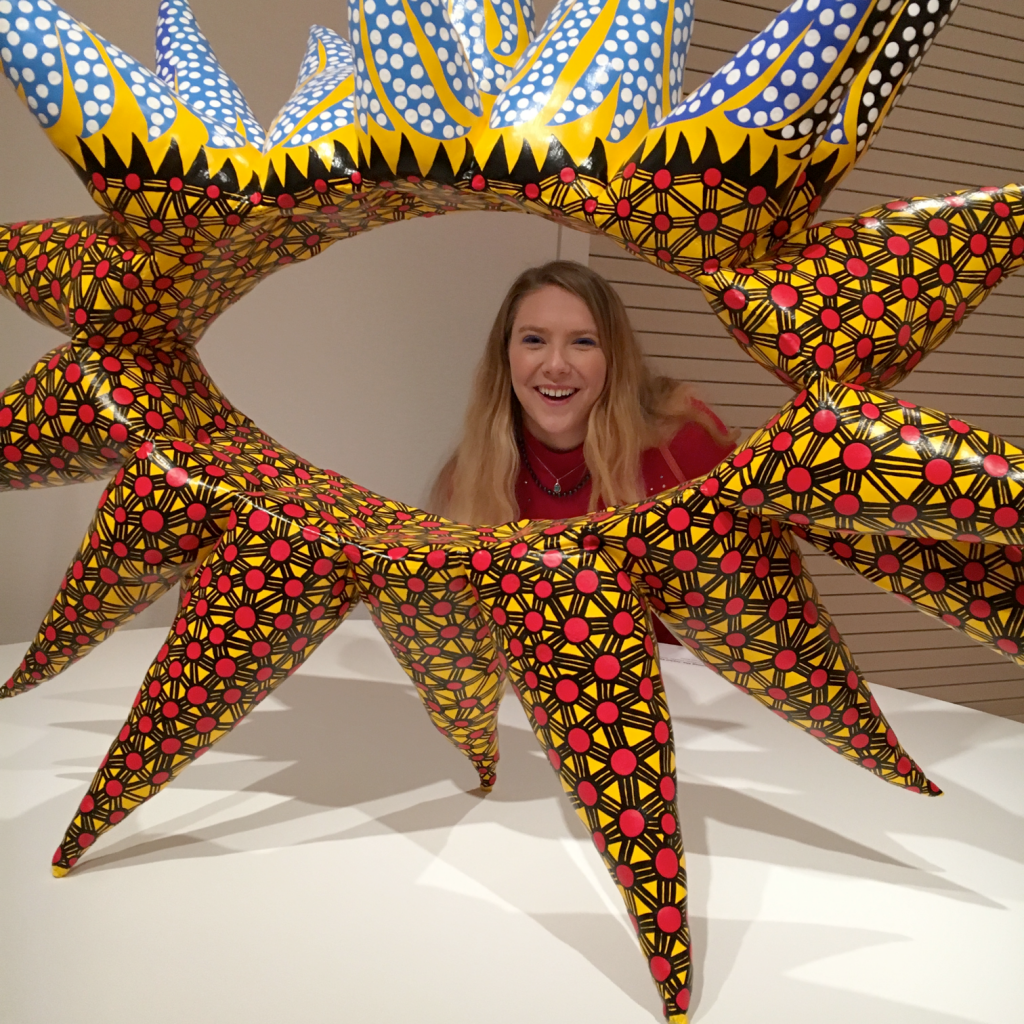 Thank you to the UPS Department of Art and Art History and the anonymous donor for giving me the opportunity of the postgraduate residency. I learned so much about myself during the residency and it set me on the path I'm currently pursuing.
After the residency, I finished my business degree which gave me the opportunity to work with the Northwest Sinfonietta and learn more about the marketing process for non-profits in the arts. After graduating I was offered a job at the Seattle Art Museum in their Education and Marketing department which gave me first-hand experience in the field.
While working at the SAM I applied to graduate school and I was accepted to both Seattle University's and Sotheby's Institute of Art graduate programs. I have now moved to London to pursue Sotheby's course where I'm studying Art Business and specializing in East Asian Art. I'm looking forward to this year where I'll attend the major art fairs in Europe. It's exciting to be based in the art center of the world and I'm already enjoying the many collections I have access to.
I'm not currently working on a body of work in terms of creating art, but I have been continuing my research which I started during my residency. I'm still fascinated by the symbolic nature of hair and the deeply rooted emotions surrounding it. While I ponder these themes, I've been working towards building my career in the art world so my influence can make a difference.
Carly Brock
After participating in the Summer Residency for Studio Art Graduates, I moved to Hermosa Beach in Los Angeles to work as an art instructor. For the last year, I've been teaching drawing and painting lessons to kids between the ages of 6-17 at an after-school art studio. Over the summer, I led several week-long outdoor art workshops that introduced these students to the fundamentals of creating art en plein air. Teaching has been a serendipitous event in my artistic pursuits that has allowed me to continue making and learning about art on a daily basis. 
Since moving to LA, my artwork has shifted to match my current surroundings, from green farmland in Washington to cityscapes and beachscapes in Los Angeles. My work was recently displayed at a coffee shop in Hermosa Beach and I completed a small series of landscapes for the set of a TV series. While I was a student at UPS, I had ambitious plans to participate in artist residencies abroad and eventually pursue a career in art therapy, and while those are still a part of my long-term goals, I am embracing new opportunities that I might not have planned for back in college. I am finding happiness in integrating myself into a new community, encouraging young creative minds, and being fortunate enough to create art every day.
Rachel Kalman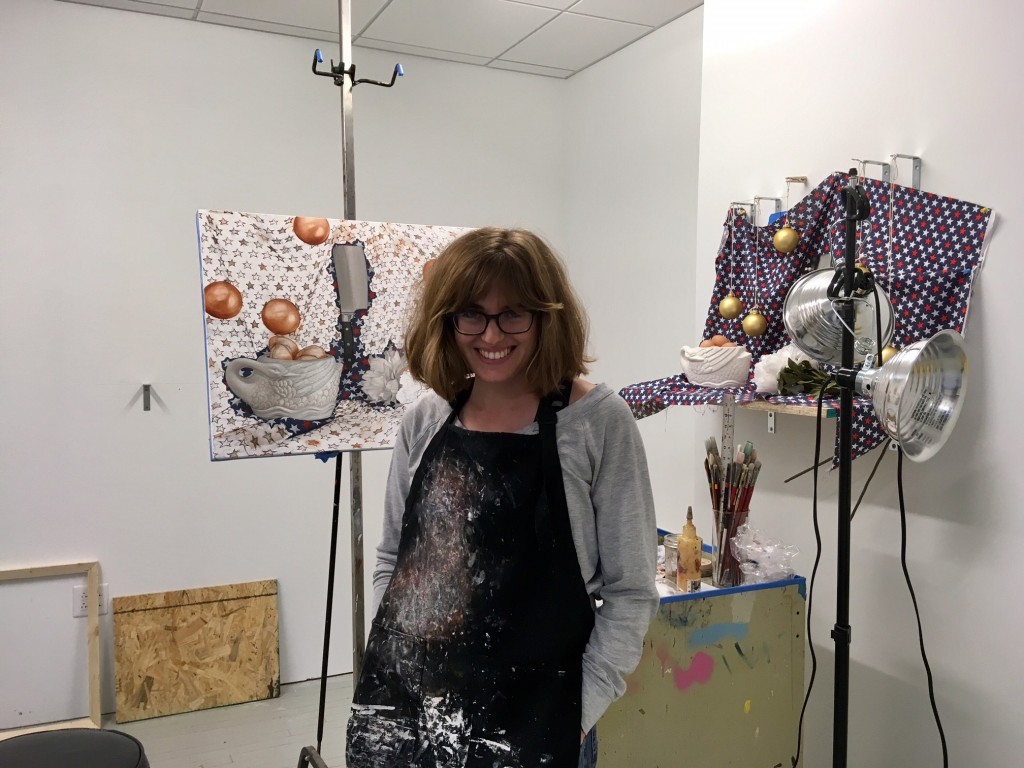 I finished up the school year in July teaching fine art at the Renaissance International School in Oakland, CA and have moved to St. Louis, MO in order to earn my MFA from The Sam Fox School at Washington University.  I continue to work with oils in my own studio, attend art history classes, many many critiques, and work as a TA for a drawing course. It is fascinating to present and examine material with a group of 18-year-old students after having designed lesson work all of last year for 7-10-year-olds!  
In my own studio, I am currently designing and painting still lives that work to illustrate Aesop's Fables – particularly ones I feel are most relevant to current policy and cultural/environmental movements. I am interested in the sharp morality of the parables and the way in which human characters are substituted for animal creatures. The fable is a deeply unique type of narrative (if even that) and I am interested in exploring what happens when that moralizing yet oddly childlike "story" is captured visually. 
Gaby Yoque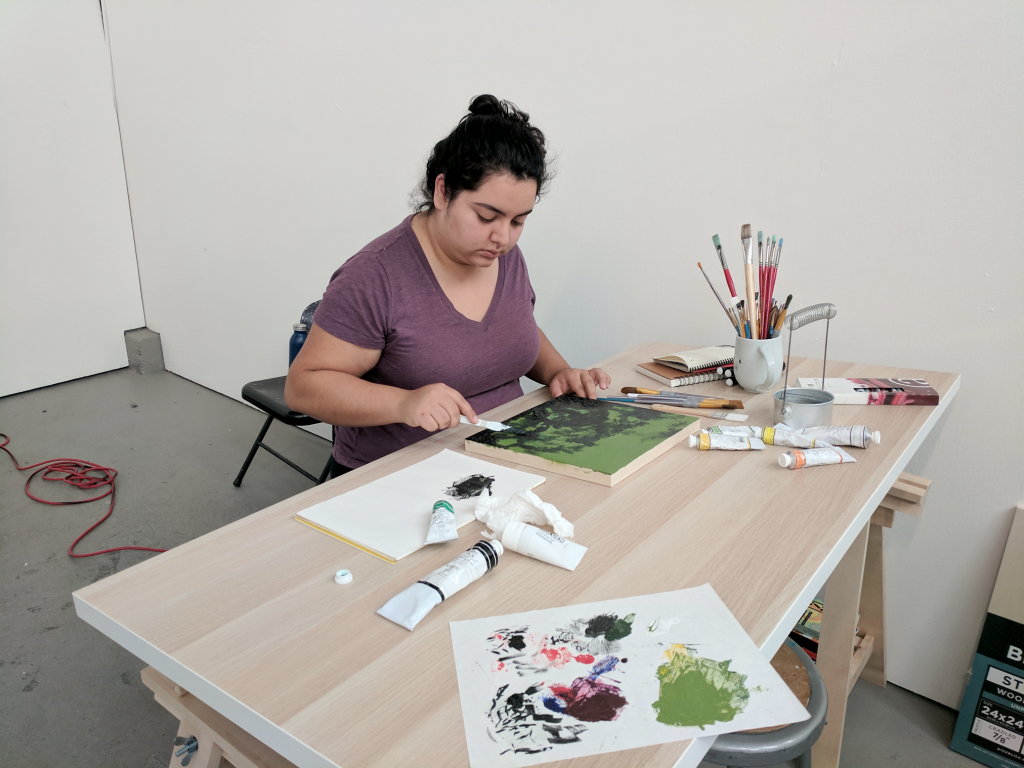 I recently moved to the Bay Area to begin my graduate program at California College of the Arts in San Francisco. I am working towards a Master of Fine Arts in Fine Art; a redundant title, but the program allows for an interdisciplinary practice. It was a fast adjustment period as classes began at full speed, with a course load consisting of contemporary art history and theory, a critique class, a social practice elective, and a personalized graduate studio course.  I am in the early stages of developing a print series on migration and will be working with an advisor to learn letterpress. As a secondary project, I am stepping away from printmaking and working on a fourteen-panel painting installation on sexual assault.
As the graduate recipient of the Yozo Hamaguchi Endowed Scholarship, I was a part of the Yozo Hamaguchi Printmaking Scholarship Awards Exhibition. I was able to showcase a few of my prints from my "Our Voices" series.
It has been an interesting few weeks as I have met with different faculty to talk about my work and the direction I am heading towards. And while it has been a flood of opinions, it's been an incredible experience being exposed to so many perspectives and takes on my work.
---
Welcome, Todd Jannausch! 
The department is pleased to add a new staff position.  Artist Todd Jannausch is our new Studio Technician.  Todd works on a wide range of projects throughout the entire art complex that will greatly assist with maintaining and enhancing the facilities and equipment essential to our studio and scholarly pursuits.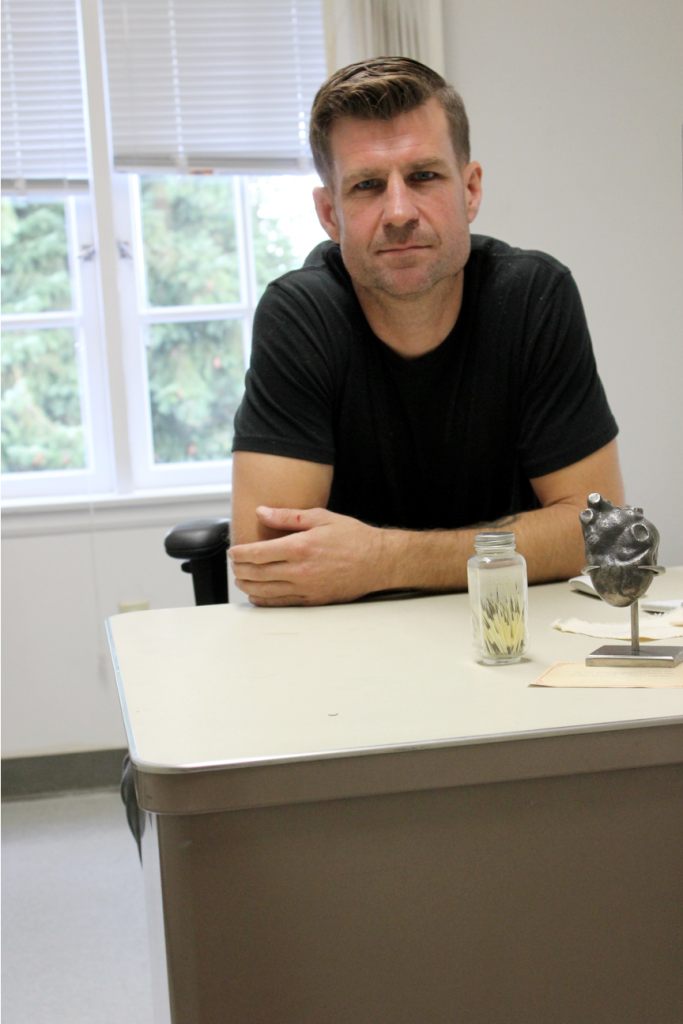 I am honored to be the new Studio Tech for the Dept. of Art and Art History. I look forward to working with faculty and students alike to support the daily operations of the art studios. While away from the University, I am also a practicing sculptor and installation artist. In 2015, I received a Fellowship from Artist Trust which I used to co-found Feast Arts Center with my partner and fellow artist Chandler Woodfin. We continue to run Feast in the Hilltop Neighborhood of Tacoma where we provide an art gallery, art classes, and studio space for working artists.