Thanks, Farewell, and Let's Party!
As finals draw to a close, students are packing up and heading out for the summer. Alas, the class of 2013 will not return in the fall, which means we must say good-bye to three student staff members of the Optimize team. They are: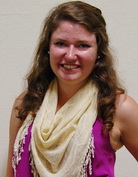 Erin Byrne – For the past two years, Erin has contributed to the project in many ways, particularly as a creative resource. We very much appreciate her excellent contributions to the Optimize SoundNet site and other project communications.
Kenzie Miller – Kenzie's bright smile and good nature have been invaluable assets during her two years on the project. We are grateful for her adaptability, as she has jumped in with minimal direction and supervision to tackle any task asked of her.
Shelby Lee – Shelby came on board this year and contributed greatly in her time with us. As a major in computer science, she was put right to work helping build queries in PeopleSoft and performing many other technical tasks.
Congratulations to all three graduates, and special thanks for all you have done to enrich the university and further this project. We wish you the very best for the future!
Today also marks the departure of MIS, the firm that has been with us through the core implementation of PeopleSoft. Moving forward, we will utilize outside consultants as needed to assist in refinements and enhancements to the system.
So, now it's time to celebrate the implementation of the Campus Solutions module. Please join us for cake and other refreshments Thursday, May 23, from 3:00 to 4:00 p.m. in the garden level of Howarth Hall. This will be a great opportunity to catch our collective breath as we congratulate the team and express our thanks for a job well done!