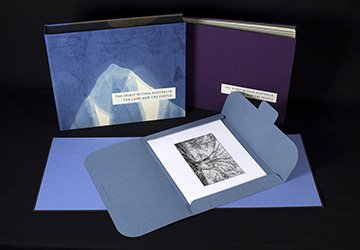 Veritas Editions Introduction
Veritas Editions is honored to present the Puget Sound Book Artists the story of our journey in Fine Press Artist Book Editions. Veritas Editions is dedicated to the beauty in truth, and the truth in beauty. Formed in 2015 by photographic artist Craig Alan Huber, Veritas Editions' goal is to communicate the message of truth through the publication of premium limited editions of combined word and image. As we live in an increasingly digital, texture-starved world, Veritas Editions strives to bring that texture back into ou
r lives with fine prints, papers, and materials matching the raison d'être of each publication.
The goal is to treat the artists as equal partners in such endeavors. We employ a novel funding approach for the production of these hand-crafted editions, one akin to that of a Co-Op, in which the artists as a collective and Veritas Editions each contribute equally to the cost, and each share equally in the profits.
Works from Veritas Editions are in permanent collections including the Vatican Library, the Huntington Library, the National Steinbeck Center, Carmel Mission Foundation, Stanford University Special Collections, UC Berkeley Bancroft Library, four State Libraries of Australia, the Archivo General de Indias, Seville, Spain; and in private collections throughout the US, Mexico, Europe, and Australia.