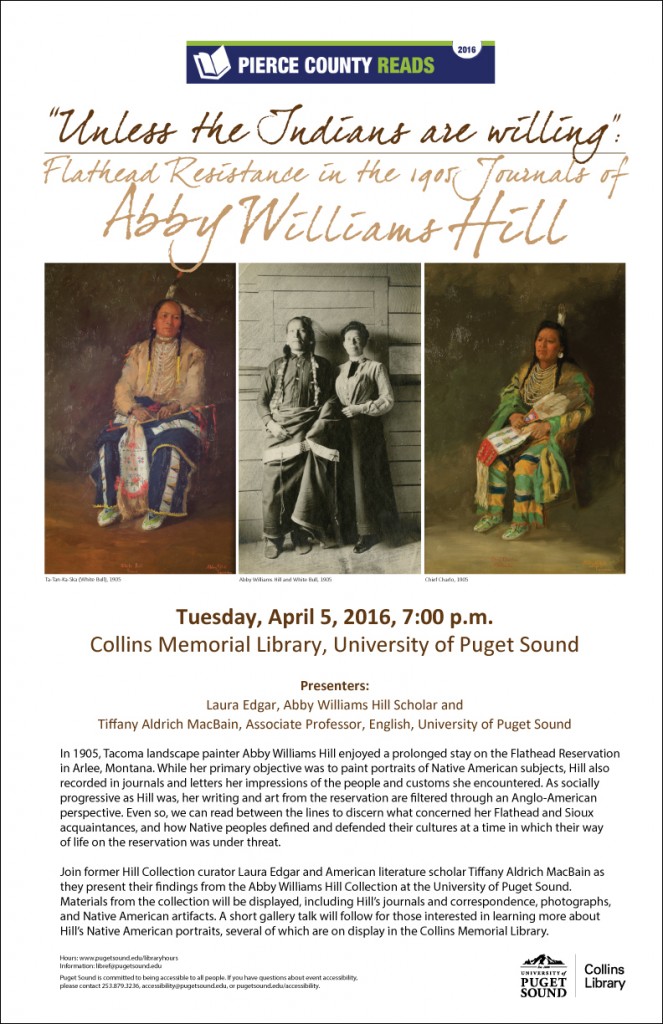 Tuesday, April 5, 2016, 7:00 p.m.
Collins Memorial Library, University of Puget Sound
Presenters:  Laura Edgar, Abby Williams Hill Scholar and Tiffany Aldrich MacBain, Associate Professor, English, University of Puget Sound
In 1905, Tacoma landscape painter Abby Williams Hill enjoyed a prolonged stay on the Flathead Reservation in Arlee, Montana. While her primary objective was to paint portraits of Native American subjects, Hill also recorded in journals and letters her impressions of the people and customs she encountered. As socially progressive as Hill was, her writing and art from the reservation are filtered through an Anglo-American perspective. Even so, we can read between the lines to discern what concerned her Flathead and Sioux acquaintances, and how Native peoples defined and defended their cultures at a time in which their way of life on the reservation was under threat.
Join former Hill Collection curator Laura Edgar and American literature scholar Tiffany Aldrich MacBain as they present their findings from the Abby Williams Hill Collection at the University of Puget Sound. Materials from the collection will be displayed, including Hill's journals and correspondence, photographs, and Native American artifacts. A short gallery talk will follow for those interested in learning more about Hill's Native American portraits, several of which are on display in the Collins Memorial Library.
Hours: www.pugetsound.edu/libraryhours
Information: libref@pugetsound.edu
Puget Sound is committed to being accessible to all people. If you have questions about event accessibility, please contact 253.879.3236, accessibility@pugetsound.edu, or pugetsound.edu/accessibility.