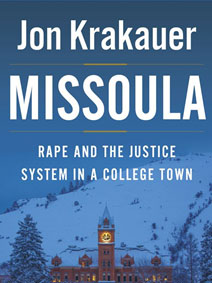 According to a 2014 report from the Department of Justice, about 110,000 women between 18 and 24 are raped each year.
Between 2008 and 2012, the Department of Justice investigated 350 sexual assaults reported to the police department of Missoula, Montana, a college town like any other. And like too many college towns, few of the assault reports were handled properly.
Missoula: Rape and the Justice System in a College Town, is the product of bestselling author Jon Krakauer's meticulous research into this series of sexual assaults at the University of Montana. In it, he chronicles the stories of some of the victims; stories of poor police treatment, public judgment and doubt, and personal agony. Krakauer's book is detailed, unapologetic, and forces us to contemplate college rape and, more importantly, its devastating stigma.
Find Missoula in the Popular Collection today.