The Collins Memorial Library is honored to host the following exhibit in our East Reading Room: Dissent and Resistance within the Military September 28-October 28
(from the website at: https://wagingpeaceinvietnam.com/exhibits)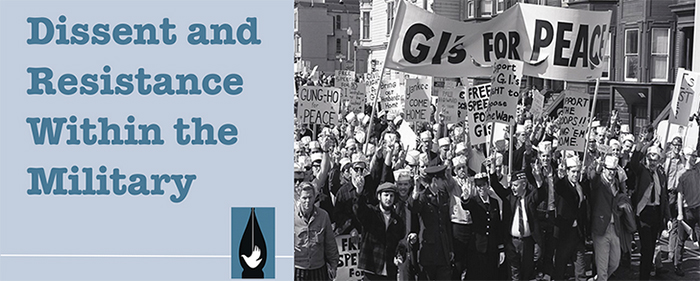 During America's war in Vietnam, the antiwar movement among active-duty soldiers and veterans was central to the success of the larger U.S. protest movement—and had a profound impact on the course of the war.
In the mid-Sixties, as the U.S. escalated troop numbers, tens of thousands of soldiers, sailors and pilots refused to fight, sail and fly bombing missions. As scholar David Cortright notes: "It is arguable that by 1970 U.S. ground troops in Vietnam had ceased to function as an effective fighting force. The disintegration of military morale was a factor in the Nixon administration's decision to accelerate troop withdrawals."
This exhibit recounts the experiences of ten soldiers and veterans who risked so much, from the total alienation of their families to personal harm and imprisonment, as they openly protested the war. May their stories spark discussion and teaching about patriotism and the power of individual and collective dissent to make societal change.
This exhibit is supported by the Catherine Gould Chism Fund and associated with the teaching of Professor Nancy Bristow. Professor Bristow will be facilitating a panel discussion in coordination with this exhibit and with the assistance with local members of Veterans for Peace on October 5th in the Reading Room. See information below.
This panel discussion will feature activists who will talk together about their engagements with dissent and resistance at Fort Lewis and in its surrounding community, activities ranging from work with the Shelter Half Coffeehouse and the Fed UP newspaper to antiwar organizing within the Army, including in the Presidio Stockade following arrest in one case. The panel discussion will engage issues related to the ethical and moral implications of opposing the war from within the military, as well as the differential motivations, tactics, impact and experiences of these actions.