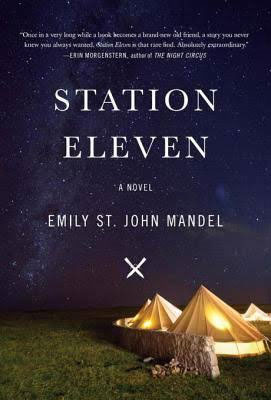 Greetings, Loggers! Are you looking for a bit of literary entertainment on your way to Spring Break? Join Collins Library and the Tacoma Public Library for Tacoma Reads 2016!
This year's selection is Emily St. John Mandel's Station Eleven. Mandel describes her fourth novel as a story "about a traveling Shakespearean theatre company in a post-apocalyptic North America. It's also about friendship, memory, love, celebrity, our obsession with objects, oppressive dinner parties, comic books, and knife-throwing."
Collins Memorial Library will host a book discussion "Let's Talk Station Eleven" in the Presentation Room (020) on Wednesday, March 23 from 6:00PM – 7:30PM. This program stems from Puget Sound students' work in English 220: Introduction to English Studies. Our student presenters will talk briefly about major themes they researched in relation to Station Eleven, including the novel's representations of cults, the blending of popular and literary culture, the repression of traumatic memory, and the role of museums and preservation in the narrative. Each student will talk for a few moments about a special topic in the novel before we open up the conversation for a community discussion.
Meet Emily St. John Mandel in a free book talk and signing at 7:00PM on Thursday, March 24 at Urban Grace Church in downtown Tacoma. And don't forget to check out the rest of the events (more than 30!) at the Tacoma Public Library this month.
By Katy Curtis, Humanities Librarian