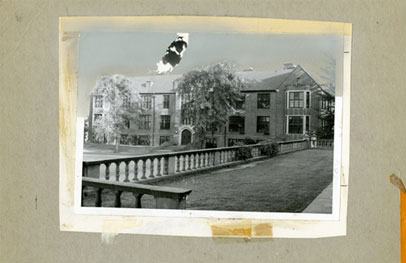 It's preservation week! An entire week dedicated to discussing the concerns and solutions regarding preservation of rare books and unique collections. Here in the Archives & Special Collections at the University of Puget Sound, we'll be showing you some common preservation concerns, highlighting our own collections.
Mounting Photographs:
Since photographs are often thin and flimsy, they can be mounted on mats to increase their durability and protect them from dust, dirt, and fingerprints. The standard mounting procedure includes a "sandwich" made of a backboard and a window that encloses the photo, made with acid-free paper, appropriate adhesives (usually a starch-based paste, never glue), backing or spacers for the photo, and "glazing" (something like Plexiglas or acrylic). The least possible amount of these things should touch the photo itself. The following is an example of how not to mount a photo: the photo is crooked and glued to the paper backing, the glue is not starch-based (you can tell by the discoloration around the top and left sides), there's a hole in the photo itself, the backing is taped to a piece of cardboard, everything is creased, and there's no window or glazing to protect the photograph.
Sources:
https://www.nedcc.org/free-resources/preservation-leaflets/4.-storage-and-handling/4.10-matting-and-framing-for-art-and-artifacts-on-paper
By Morgan Ford