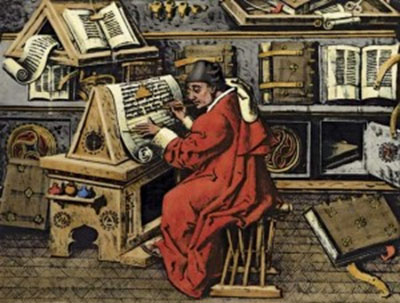 Hello again! It feels like months since the first day of classes, but somehow midterms have snuck up on us once again! I know personally midterms are the last things I want to think about right now since I feel frazzled enough with clubs, jobs, and regular class assignments, but there are ways the library can help relieve some of the stress you might be feeling right now.
When it comes time for those really stressful study days, I recommend finding a cozy study spot where you feel like you can really focus with minimal distractions. For me, this spot is one of the study carrels facing the parking lot on the second floor. If you see me there, stop and say hello! Other people might feel the need to really spread out, so I'd recommend the long tables in the reading room. If you want something a little more unconventional, I've heard great things about the minion chairs tucked away in various places throughout the building. Whatever your preference is, the important thing is to feel like you have a solid work environment that will keep you on track in the coming weeks.
Also, I know that the end of the semester still seems like a pretty long way off, but believe me it will creep up on you faster than you can believe. For those of you taking an SSI1 or SSI2 course, that means that the deadline for your final research papers is on the horizon! At this point, your professors have almost certainly spent some time discussing the research process. You may have even been to a library session with one of the liaison librarians to learn more about it. Either way, you should feel like you have a more solid grasp on research methods, but don't feel like you have to be the expert already! In fact, I would be surprised if you weren't stressing out and feeling unsure of yourself when it comes to these final papers.
Luckily, that's what I'm here for. I know in my first post I introduced myself as someone who could really help you with the research process, and now I hope to do just that. My job title is pretty fancy, but I'm really just a friendly face who can help make your research go a little more smoothly and your life just a bit easier. I know a bunch of shortcuts and tricks to help you navigate the library website and the hundreds of databases we have. Who knows, by the end of our meeting maybe you'll even see how research can be really fun! The point is, whatever kind of research help you need, I'm here for you. Big research projects can be scary, but you've got a lot of support backing you up every step of the way! Best of luck on your midterms, and I hope to see you soon!
Melanie Schaffer '16 is the Collins Library Peer Research Advisor. You can contact her at peerresearch@pugetsound.edu.