As many businesses and organizations begin the process of re-opening after shutdown and members of the community begin to increase their interactions with others,  it is important to remember that the pandemic is not completely over and that safety needs to be of the utmost concern for all.  The Centers for Disease Control (CDC) recommend the use of cloth face coverings to help slow the spread of the COVID-19 virus.
Please visit the CDC cloth face coverings page for helpful information on how to best wear a cloth face covering as well as instructions for making cloth masks.  The instructions provided include both sew and no-sew face coverings and use materials that can already be found in many households.
Sewn Mask example: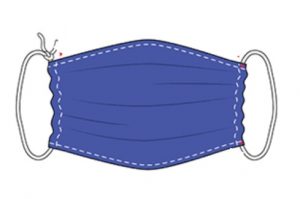 No Sew Mask example:

No Sew mask using a sock.
Other sources for mask instructions and tutorials:
There are also many tutorials for several different styles of face covering available on the Joann fabrics and crafts site.
The Makerspace has used the instructions found here to make the pleated masks seen below: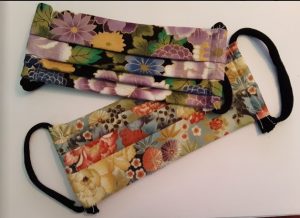 To learn more about how the Makerspace has supported local caregivers click here.