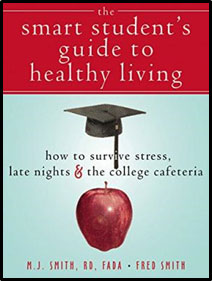 Congratulations, Loggers – you've survived one month on campus! By now, you know that college life at the University of Puget Sound is exciting, filled with new challenges and responsibilities, and an active social scene. But it can also be stressful. Between coursework, papers and exams, and participating in campus activities, you might be struggling to find time to maintain your personal health and well-being (or just eat a good meal!).
Getting enough sleep, staying physically active, and making good food choices helps sustain your creative energy and improve your academic performance. In addition to providing practical information about other topics, the Life Skills Collection at Collins Library has many resources to help you manage your health in college.
Wondering how to stay healthy and safe on campus? Try a general health guide like The Smart Student's Guide to Healthy Living to find information about diet and fitness, navigating the campus healthcare center, staying organized and managing stress.
Want to avoid the freshman fifteen, or learn how to cook a great meal in your dorm? We have cookbooks to help you whip up delicious, easy, and budget-friendly meals for you and your friends. Check out College Cooking or The Quick and Easy College Cookbook for recipes and tips on stocking your pantry.
Interested in trying a new diet? Vegan on the Cheap provides simple strategies for adopting a vegan diet and a selection of easy, low-budget recipes to try.
Don't let stress or lack of sleep knock you out! Sleep Information for Teens provides essential information about sleep requirements, sleep disorders, and the effects of sleep deprivation. If you're stressed, Introducing Mindfulness can help you form a practice to reduce stress and anxiety.
Loggers spend so much time nurturing their brains that it can be easy to forget to take care of your body, too. These resources (and many more) will help you balance an active mind with a healthy lifestyle, as you cope with the added demands of college life. Don't wait for fatigue or illness to catch you by surprise. Know your resources, press pause for your health, and form good habits in college (you'll thank yourself later!).
The Life Skills Collection is located in the Learning Commons, on the first floor of Collins Library. Learn more on the companion guide devoted to the Life Skills Collection and discover many more resources at the University of Puget Sound!
By Katy Curtis, Humanities Librarian