Welcome to April, Loggers! With the end of the academic year rapidly approaching, you may be wondering what to do with your free time this summer or thinking about life after Puget Sound. Did you know that the Life Skills Collection at Collins Library includes resources to help you get started on your job search? Here are our top picks for planning your next steps!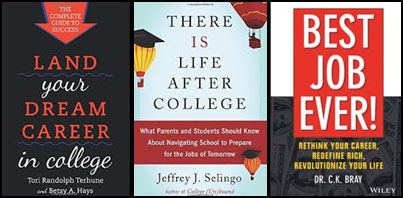 Get ahead! Land Your Dream Career in College offers insight from a recent college grad and a college professor on what you can do now to successfully pave the way for your future career.
Worried about the transition to post-college life? Don't stress – There is Life after College! In this book, you'll find practical, step-by-step advice to help you prepare for today's job market.
Make the most of your opportunities with Best Job Ever!, a guide to job satisfaction and engagement.
Want more career advice? Career and Employment Services, located in Howarth 101, also maintains an extensive collection of job and career resources, which are available to check out for two weeks.
The Life Skills Collection is located in the Learning Commons, on the first floor of Collins Library. Learn more on the companion guide devoted to the Life Skills Collection and discover many more resources at the University of Puget Sound!
By Katy Curtis, Humanities Librarian