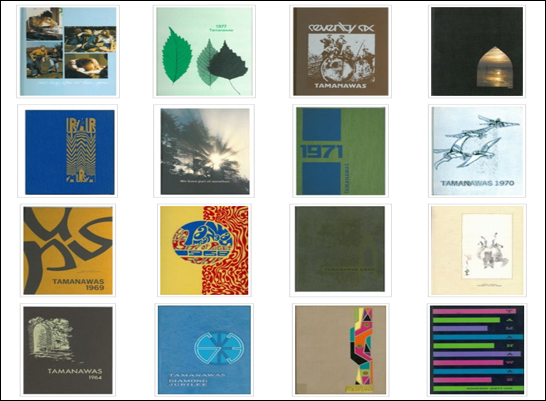 The Collins Library is pleased to announce that the University yearbooks are now available online and open freely to the public through the Historical Publications section of Sound Ideas, our institutional repository.  Klahowya was the first yearbook published for the University of Puget Sound in 1913 and only had one volume. The yearbook resumed publication in 1920 under the title Tamanawas, and  published annually until 2016. It has kept this title through various changes in the name of our institution: College of Puget Sound, 1914-1960; University of Puget Sound, 1960-present.  The yearbooks provide a glimpse into the academic and social life of Puget Sound.
The Yearbooks complement existing collections such as A Sound Past, our historical photo collection as well as Puget Sound's student newspaper, The Trail.  These resources not only provide alumni with the opportunity to celebrate and reminisce about their years at Puget Sound, but also provide our community with an important portal to our institutional history.  According to Archivist & Special Collections Librarian, Adriana Flores, "Providing access to the yearbooks online will enable our community to view our history in a whole new way. These primary historical documents teach us about the students who attended Puget Sound and what was important to them."
The yearbooks provide a unique student perspective and will also serve as an important resource for research projects as we continue to explore the history of our university and look at changing cultural trends, attitudes and programs.
This project was coordinated by Hilary Robbleloth, Systems & Discovery Librarian and Library student employees Hollie Bray and Kendyl Chasco. Scanning the yearbooks and developing the interface was a year long project and it is especially gratifying to showcase this resource at the upcoming Homecoming and Family Weekend.
The Library coordinates a number of projects through a Digital Collections team, currently chaired by Social Sciences Librarian & Coordinator of Sound Ideas Institutional Repository Ben Tucker.  This fall Ben is completing a review of print and digitized historical copies of The Trail, in order to identify and fill gaps in our digital collection.  Ben will be coordinating the scanning of these issues to complete the online historical student newspaper collection.
For more information about our collections visit:  https://soundideas.pugetsound.edu/ups_yearbooks/ or contact Jane Carlin, jcarlin@pugetsound.edu
Resources: 
Puget Sound Yearbooks
https://soundideas.pugetsound.edu/ups_yearbooks/
A Sound Past
https://digitalcollections.pugetsound.edu/digital/collection/upsimages