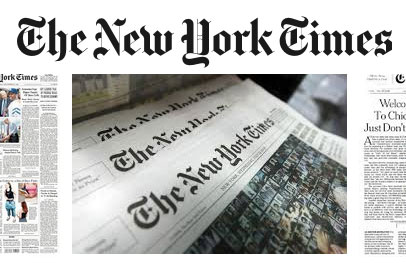 Read all about it, we have exciting news, the University of Puget Sound, coordinated by Collins Library, now has a site license to the New York Times web site.
This means that all students, faculty and staff at the University have full and unlimited access to all of the content on the New York Times site. (This message will also be shared on staffcomms, posted on the Library website, and you are welcome to share the information with students.)
This is a pilot project for this calendar year, and we hope many of you will take advantage of this opportunity.
Here's how it works. Once you've registered for an account, which you do from within the campus network (i.e. on-campus), you may "log in" to that account from anywhere, anytime.
To register go to: http://accessnyt.com
Click "Create Account" and complete the registration fields  (it is recommended that you use your @pugetsound.edu email address). If you have previously registered your email address on The NYT site, click the "Already have an account? Log in here" link just below the "Create Account" button.
Once registered, go to: http://nytimes.com and "log in" in order to have unlimited access to the NYT content.
If you already have a paid subscription to the digital New York Times, you may choose to cancel that subscription, and then take advantage of our institutional access.  To do that contact NYT Customer Care at: customercare@nytimes.com or 800-591-9233.
As soon as the cancellation is processed, you can "link" your existing ID to the Puget Site License by following the steps outlined above.
If you are away from campus, and would like to register for an account, please try starting the process from this link:
http://ezproxy.ups.edu/login?url=https://myaccount.nytimes.com/grouppass/access
If you have any questions or comments please send them to libref@pugetsound.edu