Back in early October we blogged about the Seattle Antiquarian Book Fair, which took place the weekend of October 11th. Having attended the book fair, I'm here to bring you a little recap of the event!
As a student working in the Archives & Special Collections, I'm all about those old books, and couldn't pass up the opportunity to wander around a treasure trove of rare books and archival materials when they were practically in our backyard. The event included over 90 book dealers from across the country, as well as from Canada, England, and Italy, and the items they had for sale ranged from medieval manuscripts, to children's books, to ephemera and maps. I even spotted a few first edition Harry Potter books, and was shocked at how much they were going for! My favorite items included a collection of miniature books (I just really love tiny things), and a medieval Balinese manuscript which had the most beautiful bejeweled covers I've ever seen. I also enjoyed sifting through various pieces of ephemera, particularly advertisements from the late 19th– early 20th century. Although most of the items for sale were way out of my price range, I did bring home a facsimile of a medieval manuscript leaf written in Latin and Arabic, for a mere $15, which has found a happy new home on my wall.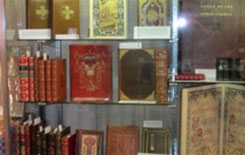 I was not the only UPS student to enjoy this event, however. In addition to a couple of fellow Archives & Special Collections students, some of Professor Katherine Smith's History 200 students also attended, and brought up some important points about the accessibility of rare materials like those exhibited at the book fair. At only $5 a ticket, the antiquarian book fair enables you to experience, as Lauren Griffin called it, "a feeling of connection with the past," which most of us don't have many opportunities to do. Both Danielle Penn and Erin Koehler were struck by the variety of the materials available at the book fair- while Danielle examined a leaf from a book of hours and was pleased to see its worn appearance, "suggesting that it was used often and had a life, " Erin looked at issues of race in the collections of ephemera on display, particularly posters and caricatures, and noted that, "Conservation of these artifacts is key to understanding why race continues to play such a crucial role in society today." I too was struck by the incredible range of items on display, and the comments of Professor Smith's students really emphasize that no matter your interests, there really was something for everyone at the Seattle Antiquarian book fair.
By Kara E. Flynn