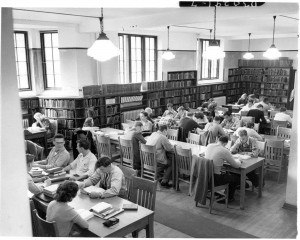 I can't believe the summer is coming to an end and that I'll be wrapping up my work in the Archives and Special collections this week. This summer has been wonderful and I've absolutely loved exploring history through the archival collections I've worked with. There has rarely been a dull moment, as my research has covered topics that have spanned hundreds of years and crossed international borders. Every day I got to learn about something new and different!
Despite how much I've come to love my work this summer, I was initially unsure about what my work would entail, given my title as "Wikipedian in Residence." While my goal was to improve the accessibility and visibility of the archival materials in the Archives & Special Collections through Wikipedia, it was initially difficult to see past the more technical aspects of writing on Wikipedia- figuring out formatting and wiki code, etc. But ultimately, my job wasn't really about simply writing for Wikipedia, but about improving access to information and quality primary materials. That is what a Wikipedian in Residence really does.
I think the most difficult part of my work this summer wasn't the work itself, but justifying it to others. Despite the ever increasing use of Wikipedia in higher education through the Wiki Education Foundation, many still scoff at the mention of Wikipedia in any context, let alone in connection with higher education. I'm not suggesting that students should be able to cite Wikipedia in a research paper- it is after all a tertiary source, and any tertiary source, in print or online, is not a suitable source for a college-level research paper. Rather, I think complaining about Wikipedia's faults is a bit like someone who didn't vote complaining about the president in office. If you're not willing to take action, why belittle those who are working to improve something you're not willing to improve yourself?  I would also point out to critics that, for better or worse, Wikipedia is an incredibly popular source of information for millions of people. When you contribute to Wikipedia using the quality sources that you are lucky to have access to, you can help improve the quality of information that hundreds of thousands of people read on a daily basis.
I've learned so much this summer, not just about archives, but about what I want to do after I graduate. By my 5th day in the Archives & Special Collections, I was positive that I wanted to go to library school and work in archives and special collections for the foreseeable future. If anything, my desire to pursue archival work has only intensified over the course of the summer!
Thanks for everything, A&SC!
P.S. If you're interested in editing Wikipedia yourself, please, please drop by our Wikipedia Edit-a thon on September 20th, from 2-4 at Collins! We will be focusing on improving the diversity of representation of authors and activists on Wikipedia in anticipation of the Race and Pedagogy Conference. No Wikipedia experience necessary!
By: Kara E. Flynn