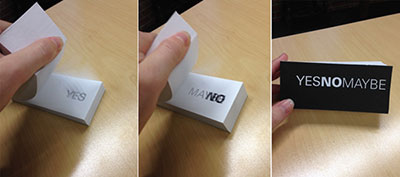 Here in the Archives & Special Collections we have an array of quirky items; among some of these items are the collections of Artist Books in the Shelmidine Room. Redefining the concept of a "book," artists create many fun, educational, and even confounding art pieces with paper, written word, and even various objects. Coming in all shapes and sizes, you never know what you're going to get, or what hidden surprises lurk among the shelves. From poetry to pop-ups, you'll find a plethora of colors and content in this collection, and you're sure to find lots of glitter and glue!
Here is an example of an Artist Book that demonstrates the variety we have in this collection. "YESNOMAYBE" is a flip-book created by Karen Hanmer. Miniscule in size and scarce in words, it's certainly intriguing. Perhaps it could be useful in certain decision making, passing time via eccentric entertainment, or illuminating the difficulty of providing a concrete answer (as we see the merging of words, blending of ideas, and ambiguity present in the racing pages).
The Archives & Special Collections is open on Mondays and Wednesdays from 12:00-3:00 p.m. or by appointment.
By Monica Patterson