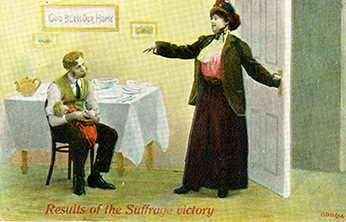 This year marks the 100th anniversary of the passage of the 19th Amendment, which guaranteed the constitutional right of women to vote. In honor of this, we are highlighting our Collection of Women's Suffrage materials, which includes postcards, photographs, and ephemera related to the suffrage movement. This collection was purchased several years ago for use in teaching and learning. Recently, the entire collection was digitized and the materials should be available online this fall.
The women's suffrage movement in the United States began in the mid-1800s and lasted nearly a century until the 19th Amendment to the Constitution was ratified on August 26, 1920, enfranchising American women. The campaign for women's suffrage began in the decades prior to the Civil War, as women were becoming increasingly involved in reform groups such as temperance leagues, abolitionist organizations, and moral reform societies. In 1848, Elizabeth Cady Stanton and Lucretia Mott organized the Seneca Falls Convention to discuss issues surrounding women's rights. In 1890, the National American Woman Suffrage Association (NAWSA) was formed with Stanton acting as its first president. By 1910, some states began to extend the vote to women, but southern and eastern states in particular resisted. In 1916, NAWSA president Carrie Chapman Catt presented a plan to gain the right to vote, a campaign that mobilized state and local suffrage organizations across the nation, focusing particularly on the states that had taken a hard line against enfranchising women. The First World War slowed their progress initially, but in 1920 the 19th Amendment was finally ratified and approximately 8 million American women voted in elections for the first time on November 2, 1920.

The Collection of Women's Suffrage materials contains 54 postcards from seven different countries that depict both the positive aspects of enfranchising women and the many negative stereotypes associated with the suffragist movement. Suffrage related postcards were popular in the 1910s and were used as propaganda on both sides of the movement. As Lisa Oberg writes in her article "Postcards and the Battle for Women's Right to Vote:"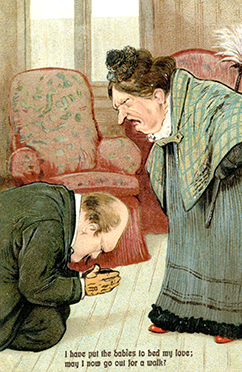 "Postcards aimed at dissuading support for women's suffrage often depicted women in very derogatory ways, as broad caricatures of ugly spinsters, domineering harridans and more… Anti-suffrage cards also insinuated giving women the right to vote would be political chaos and lead to women who were decidedly less feminine and emasculate men by forcing them to perform women's work such as housekeeping and childrearing."1
Artist cards designed by popular artists and illustrators and real photo postcards were also popular during this time and showed images of suffragettes, parades, and other events.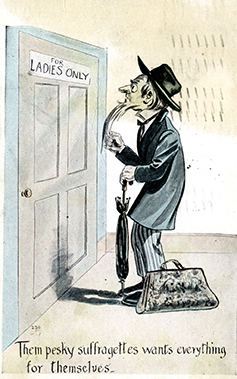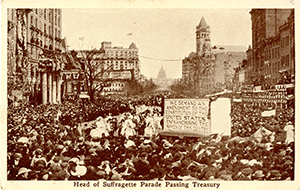 In addition to the postcards, this collection contains photographs of prominent suffragettes including Carrie Chapman Catt, Anne Dallas Dudley, Christabel and Emmeline Pankhurst, and Millicent Garrett Fawcett among others and several pieces of ephemera such as a meeting notice for the Union County, New Jersey Equal Suffrage League. The Archives & Special Collections also contains a few other items related to women's suffrage that are not part of this collection, including a pamphlet titled "What President Wilson Says" published in 1917 by the New York State Woman Suffrage Party and a pamphlet titled "National Grange in Favour of Votes for Women" published in 1915 by the National Woman Suffrage Publishing Company.
1. Oberg, Lisa. "Postcards and the Battle for Women's Right to Vote." The Journal: Book Club of Washington, Fall 2020, pgs. 28-35.
The Archives & Special Collections is currently unable to host in-person researchers. If you need assistance or would like to set up a virtual appointment, please email us at archives@pugetsound.edu.
By Laura Edgar, Assistant Archivist