This semester I have been invited by multiple Greek houses to discuss the importance of revisiting our history and preserving the documents we create. These two acts are central to the work we do in the archives and I'm happy to help others through this process. I thought I'd share the heart of my presentation through this blog post, to hopefully help others learn a bit about our past and think critically about our future.
A Brief History of Greek Life at Puget Sound
In the early 1900s, students began forming literary societies to promote friendship and social interaction. By 1926, eight local social fraternities and sororities had formed, several tracing their roots to the literary societies. Beginning in the late 1940s, the local groups began to affiliate with national organizations. By 1966, there were eight fraternities and seven sororities, all with national affiliations. A great example of this is the history of our chapter of Phi Delta Theta. In 1905, the Philomathean Literary Society was founded. In 1922, the local fraternity Delta Kappa Phi was founded by the men of the Philomathean Literary Society. By 1952, Delta Kappa Phi became the Washington Delta chapter of the national Phi Delta Theta fraternity, which continues on campus to this day. If you'd like to learn more about the history of specific Greek houses on campus, read University of Puget Sound: From the Archives—People, Places, and Stories by John Finney.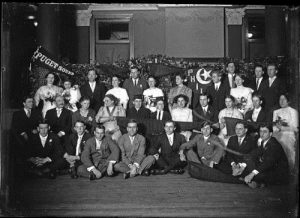 Researching Greek Life on Campus
If you're interesting in investigating the history of Greek life on campus, the Archives & Special Collections has multiple resources for you. As well as the above publication, I recommend searching The Trail online for old articles referencing Greek life or individual houses. You can also search for images from our historic photo collection online on A Sound Past. There are also physical collections that you can investigate in our office, including our complete set of yearbooks.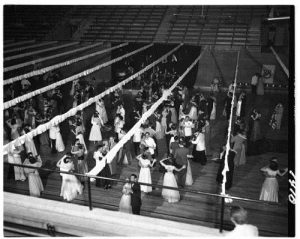 Preserving Documents for the Future
In order to have historical documents in the archives and within Greek organizations, people need to collect and preserve the documents they create. For any Greek organization, or student group in general, I'd recommend the following best practices for preserving your history:
Organize what you have. This applies to photo books, event fliers, chapter minutes, etc. Make sure you know what you have and organize it in a clear and consistent way.
Keep it in a secure location. That means safe/locked as well as in a dry, cool, and dark place. Don't keep things in a corner of the house that is known to flood, has bugs, etc.
Create a system or routine. Make sure that system is then clear for others to follow.
Build the system into leadership positions/workflows. Make a system and make it easy to follow for future generations.
Ask for help when you need it! I'm always available for consultation.
Our campus history is useless unless we pay attention to it. Whether we're reminiscing or critiquing it, the past can inform the work we're doing. If you'd like to do your own research, reach out to the Archives & Special Collections—we'd be happy to help!
The Archives & Special Collections is open Tuesday, Wednesday, and Thursday from 11:00 AM to 3:00 PM or by appointment.
By: Adriana Flores, Archivist & Special Collections Librarian